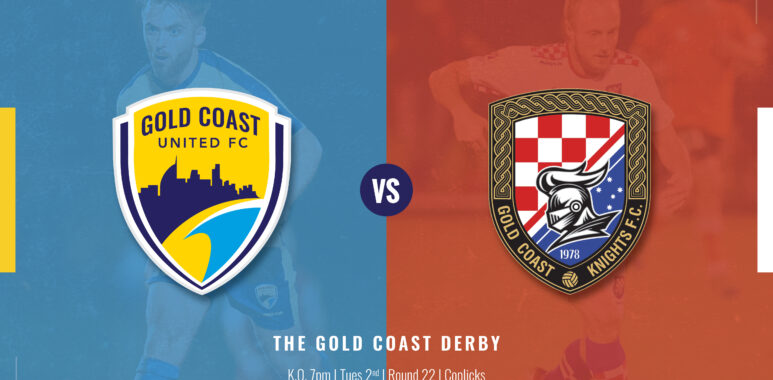 After heavy rain forced the postponement of Saturday's much anticipated match-up, form guides will be tossed aside tomorrow night in the re-scheduled second edition of the Gold Coast derby. 
The first league meeting between Gold Coast's two National Premier Leagues Queensland clubs finished in an entertaining 1-1 draw and with the atmosphere around this match again expected to be more like a cup clash, this game looms as crucial on many fronts with much more than just local bragging rights at stake for both clubs.
As the landscape of football starts to change shape nationally, there's some football 'politicking' taking place on the Gold Coast as the two clubs vie to position themselves at the top of the pack ahead of the mooted introduction of The Championship. Tomorrow night the verbal jousting will play second fiddle to the action on the pitch, where it matters most, in a clash between two squads assembled under contrasting approaches.
United's local, youth first philosophy has reaped pay-dirt in 2019, but with recent injury concerns and departures Kristian Rees' squad has needed some re-jigging ahead of the second instalment of the 'Glitter Strip Derby'. Two further 'home grown' youngsters have joined United and Rees will be hopeful that Cian Cuba's recovery from a leg complaint is complete to bolster his attacking options.
The Knights have opted for a healthy crop of more experienced, mature players to forge their 2019 NPL path and have left no financial stone unturned in that quest. Upfront their marksmen are firing with a glut of talent to choose from. At the back the Knight's defensive deck may need a re-shuffle due to a suspension and some illness concerns. Are we about to see another 'big name, big money' signing ahead of this edition of the Gold Coast derby? 
Players to Watch
A stack of mouth watering contests across the park in this one, but it's hard to go past the respective number 10's as potential match breakers.
For United Conor Smith was a standout in game one scoring a gem. Watch out for his creativity to unlock the Knights' back four.
Former 'Aleaguer', Mitch Nichols, has been central to the Knights push up the NPL Queensland ladder since arriving at Carrara in the week leading up to the first derby. A quality player with oodles of time on the ball, his ability to play a telling pass in behind and an ever present eye for goal, mark him as a real threat for United's back five. 
Past Encounters
Apart from the Rd7 draw in March, the only other game between the two clubs was in Round 5 of the 2018 edition of the FFA Cup with Knights taking the spoils that night 3-2 in front of a healthy crowd at the Croatian Sports Centre. 
Conor Smith scored United's goal in Rd7 
Match Details
National Premier Leagues Queensland Round 22
Gold Coast United Gold Coast Knights
Tuesday, July 2, 2019
Kick-off at 7pm
Coplicks Family Sports Park, Tallebudgera
Entry to the match is free with gold coin donations encouraged towards GCU's Accessible Football Program.
For those who can't make it to Tallebudgera, Football Queensland is live-streaming the match on both their facebook and youtube channels.