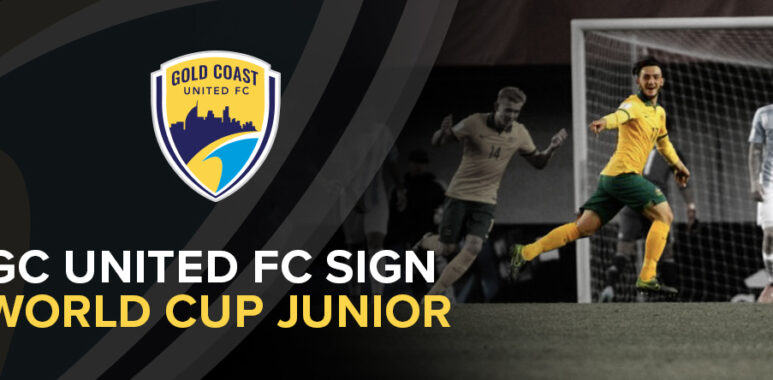 GC United FC Sign World Cup Junior
Media release September 26, 2017
GC United FC sign World Cup junior
AFTER assembling a stunning coaching arsenal, new NPLQ club, Gold Coast United FC, have opened their player books with a marquee signing.
The club today announced they had successfully lured former Australian under 17 (Joeys) mid-fielder Nicholas Panetta to their ranks for the 2018 season.
Club CEO Troy Bingham said while the club's emphasis would always be on sourcing and promoting the best local players, it was imperative that both the elite men's and women's teams be successful.
"Nicholas is an indication of the type of player we want as part of our brand," he said.
"He is definitely a quality player, but more importantly he is a quality person. We want the younger players in our club to be looking up to our first team representatives and proudly following in their footsteps."
Mareeba (North Queensland) born Panetta graduated through an exceptional educational pathway – the FNQ National Training Centre of Excellence in Cairns, then to the QAS (Queensland Academy of Sport) and finally the FFA Centre of Excellence (AIS) in Canberra.
He represented Australia Under 17 in the 2015 FIFA Junior World Cup scoring a brace against Argentina to seal a spot for the Joeys in the final 16.
He moved from the AIS to the Brisbane Roar (NPL Men and National Youth League) and in the just completed season played for Hume City in the Victorian NPL.
Gold Coast United men's head coach Sean Lane applauded Panetta's signing.
"This club will live by its ethos of promoting talented young players," he said.
"Nicholas is an example of this. He's just 19, but we believe he can be a key component of our elite playing roster."
Club CEO Troy Bingham said United had already received plenty of player inquiries.
"Our first trials across all age groups are fast approaching," he said. "We want to make a couple of things very clear. We are a brand for all Gold Coast clubs and players and our women's and girl's programs are valued as much as our men's and boy's.
"We have sourced the best coaches because we want the Gold Coast to be the most prolific and fertile football pathway in Australia."
ENDS
For more information contact:
Gold Coast United FC CEO Troy Bingham
Ph: 0437 237 037