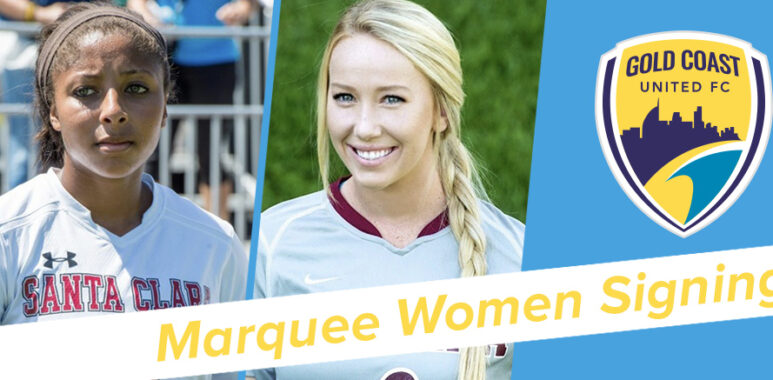 Gold Coast United FC Announce Marquee Women Signings
New NPLQ club, Gold Coast United FC, start their women's trials this weekend with two marquee players already signed and sealed.

The club's women's head coach Michael Cook said top American players Mackenzie Akins and Anjel Brown had agreed to be part of United's inaugural season in 2018.

"Both these players are international quality and certainly W League standard," he said.

"I am rapt that the quality has come to this club straight away. To be a start-up club trying to put together our first sides, it is very exciting to have secured these two."

Both Akins, 23, and Brown, 22, had stellar careers through the American university soccer system before moving on to play professionally in Sweden.

Cook said Akins (striker) and Brown (defence) would be excellent mentors for the club's younger players.

"They both approached us and it's a great pay-off for the amount of networking I have been doing with overseas players in recent years," he said.

"I do quite a bit of due diligence, a lot of Skyping with the international players to make sure they are the right type of people as well. These two are great young girls. They will be excellent mentors for the younger players, which is a big part of who I want our elite players to be."

Cook said the signing of the two overseas players was actually an indication that United was very pro-development for local players.

"We are Gold Coast focused, but the reason we have signed two Americans first is that we are pro-development," he said. "Bringing in experienced, high quality players is only good for the young locals girls.

"They get to see the standard that is expected. Americans normally have big personalities, and an amazing work ethic. They will definitely lift the standards of the locals."

Gold Coast United will be staging trials for all their girls and women's NPLQ teams – Under 13, Under 15, Under 17 and Open Women's – this weekend at Royal Pines from 11am on Saturday and Sunday.

"So far we have had 60 registrations across the Under 17s and open," Cook said. "The majority of these are players from the Gold Coast region and the majority of our squads will be locals."

Cook said players across all age groups could still register up until 5pm tomorrow (Friday). Girls and women's trials will also be held next weekend.
ENDS

For more information contact:

Gold Coast United FC CEO Troy Bingham
Ph: 0437 237 037