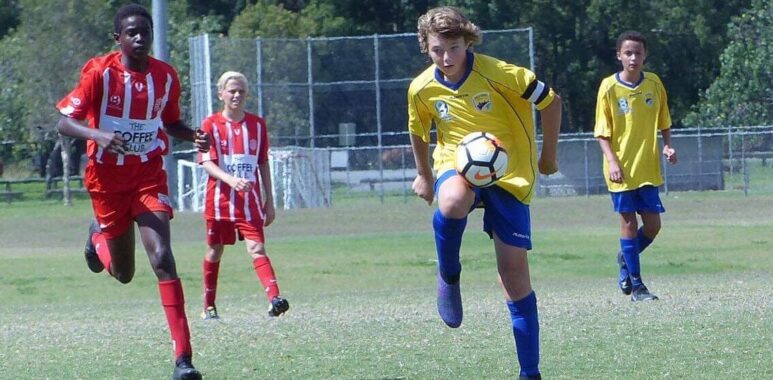 Hugo McAteer heading to the UK!
Hugo McAteer, bound for the UK (Sportspics)
An amazing once-in-a-lifetime opportunity for Hugo McAteer who heads to England shortly to take up a spot at a top tier English Premier League football academy while attending one of the finest independent football schools in the UK.
Hugo (13), a student at Lindesfarne Anglican Grammar School, was born in Chester so is no stranger to the UK and to the EPL. His uncle, Jason, had a distinguished professional and international football career representing the Republic of Ireland and making 100 appearances for Liverpool FC across 420 professional games.
Hugo will be in good hands when he returns to the UK to take up an EPL Academy position and a boarding place at Repton School, one of the oldest, most established and respected football schools in the country.
In a huge move for the talented midfielder, his parents Sam and Jane are comforted knowing that he'll be surrounded by family and immersing himself in some of the best possible football and education available anywhere.
As for Hugo himself, he's itching to get into school and football life in England that starts with a football tournament in Spain at Seville FC.
"I'm excited but I'm a bit nervous too, leaving home and my family and friends."
"But it's such an amazing opportunity."
"I've just got to keep working hard and hope that it pays off."
Hugo's been in Australia with his family for 8 years settling first in South Australia and playing with Adelaide City.
A move to Northern New South Wales followed where he linked with the Liverpool Football Academy (LFC) in Lismore based at the Southern Cross University. He flourished during his time there and was awarded the 'Player of the Year' for his age group in 2018.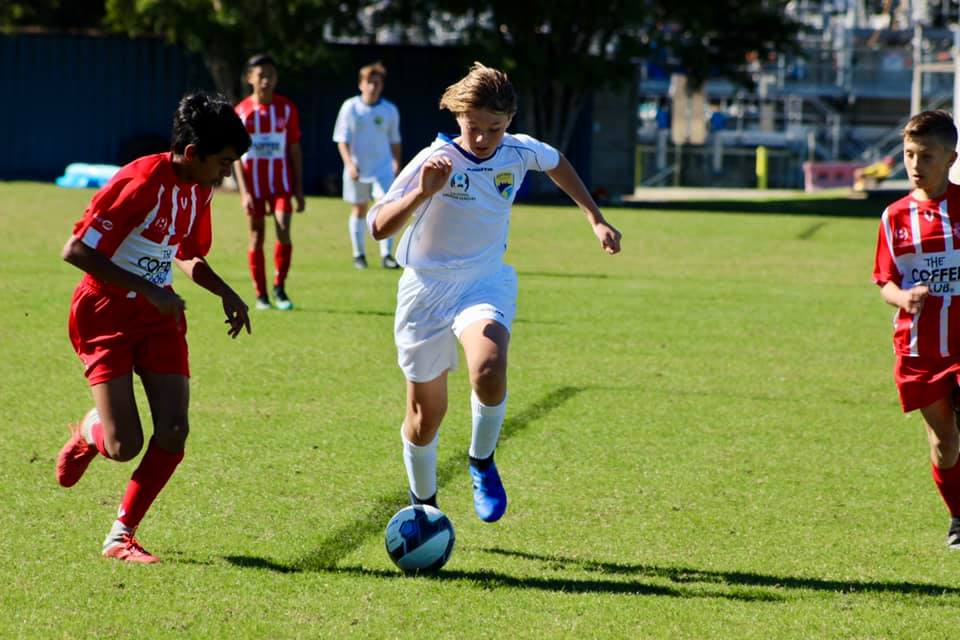 Hugo McAteer in action for GCU in 2019
Hugo joined GCU's U13 National Premier Leagues (NPL) program in 2019 and credits his development to all clubs and coaches that have guided him on his journey to date, including Gary Scott at the AFA Academy in Nerang, another key mentor in Hugo's rapid progress as an emerging future 'star' of Australian and UK football.
According to Gary Scott, "the first thing I noticed about Hugo was his game intelligence for one so young, which basically means he recognises the right moment to shoot, pass and dribble which is very, very difficult to coach."
Gary was also instrumental in introducing Hugo to top tier clubs in the UK which all began after a scout from Leicester City spotted Hugo during a trip to the Gold Coast back in 2017.
"Proving yourself in a top tier EPL academy is very difficult and its obvious Hugo has what it takes to get to the top."
In a bitter sweet twist, the opportunity to head to England means that Hugo has now stepped down from his position in the U13 Queensland Metro team in the upcoming National Youth Championships.
Another person who knows Hugo well is Football Queensland's Pat Hedges, who heads up FQ's High Performance & Coach Education arm.
"Hugo was recently selected to represent Queensland Metro at the upcoming National Youth Championships in Coffs Harbour," Hedges confirmed.  
"His selection was merited on his performances during an extensive 4 month trail process."
"While we're disappointed to lose a young player of Hugo's calibre from the Queensland team, this opportunity is too good to pass up and myself, the staff and players from the 2020 U13 Queensland Metro Squad wish him all the best on his continuing football journey.
"On the plus side for us, he is still part of the state team family and we are looking forward to comparing his workloads with his team mates here in Australia and monitoring his development."
"We also look forward to his trips back to Australia where we welcome him back with open arms."
Bon Voyage Hugo!
All the best from everyone here at Gold Coast United as well.
We'll be following your progress with much interest.