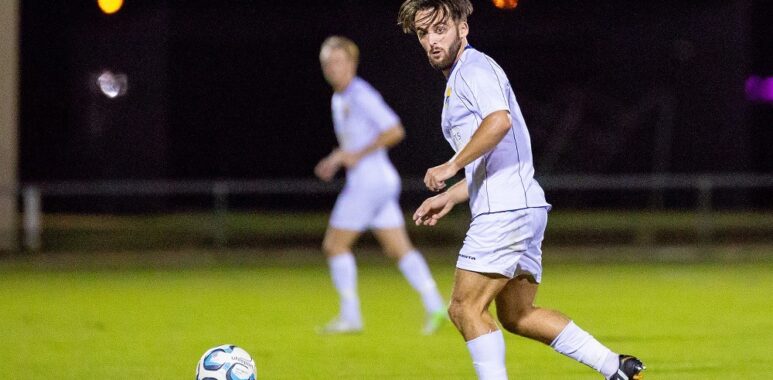 Conor Smith was again among United's best against Moreton Bay
Moreton Bay over ran a youthful Gold Coast United outfit last night at Pizzey Park, a strong second half resulting in a 4-0 win.
United were looking to bounce back from three consecutive defeats and were well in the contest in the first half, an even affair with both sides creating numerous chances but failing to capitalise on their opportunities. All square at the break, nil-nil.
The Jets started the second half brightly and pressed forward eventually exposing United at the back on the hour mark with Darren Thomson getting the break courtesy of a fantastic strike from the edge of the box. United found themselves further behind shortly after thanks to a calm finish from Matthew Capelo.
From there the contest became a one-sided affair. Nicholas Bernardi bagged a brace in the closing stages to seal the result, the Jets returning to winning ways and strengthening their hold on fourth spot.
United's Coach Sean Lane was pleased with his side's first half performance and praised the way his youthful side held their own against quality opposition.
"I thought we were excellent in the first half, (but we) didn't take any of our chances and as a result we left ourselves wide open to what happened in the second half."
Lane continued to show faith in the Club's 'youth first' policy, and with relegation not a concern, affirmed that he will continue to blood younger players in the remaining fixtures.
"It's a fantastic opportunity for our young players to gain vital experience and hopefully next year they will benefit from this experience."
After a tough recent run against top 4 opposition United's two remaining fixtures are against Clubs that sit below them on the ladder so a chance to finish the season on a high. Toowoomba head down the range this Saturday and an away trip  to the Sunshine Coast closes out United's season.
National Premier Leagues Queensland, Rd 24
Sunday, August 12, 2018
Pizzey Park, Burleigh Heads
Gold Coast United              0 
Moreton Bay United            4  (Thomson 57', Capelo 63', Bernardi 71' 77')