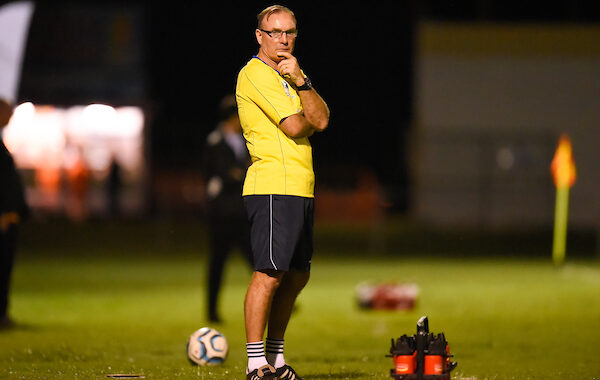 Lane set to depart United
Sean Lane on the sidelines for Gold Coast United in season 2018 (Patrick Kearney)
Sean Lane has confirmed that he will step down from the position of Head Coach of the Gold Coast United Men's squad at the end of the regular season.
Lane was appointed to guide the Club in its return to the competitive arena in the 2018 National Premier Leagues Queensland competition.
In line with the Club's focus on youth development, Lane's relatively inexperienced squad achieved its primary goal for 2018, finishing mid table in the NPL competition in 2019.
Tested firstly by losing home ground advantage during the Commonwealth Games and seemingly 'cursed' by a horror run of serious injuries, it was Lane's experience that was vital in moulding a competitive squad.
"We lost numerous key players to injury which saw us unable to field the same starting eleven week to week – we had to use over 40 players this season," Lane confirmed.
"With our best players fit and on the park we found ourselves able to compete with any team in the NPL and I'm pleased with that – especially for a new group of players."
"I'm really proud of how the group stuck to task and got the results needed. They'll learn a lot from the season and be better players and people for it."
United Chairman Danny Maher praised the energy and professionalism Lane brought to the role.
"Sean has been a wonderful professional for our club during our first year in the National Premier Leagues and his experience has helped us enormously.
"As our inaugural NPL coach, Sean takes his place in the Club's history and we are very proud of him."
"Sean is the ultimate professional, a great person and is held in exceptionally high regard by the Club.
"We continue in to next season with our youth focus building on the foundation laid by Sean and hope to see Sean a lot around the club."
Reflecting on his time at the Club, Lane is proud of the part he played in positioning United in a good place, on track to continue its goal of being a benchmark of youth development in the region.
According to Lane, "it has been a remarkable year and the club continues to rise."
"I am proud to have been able to apply my experience in this inaugural year to launch and grow the senior programs and their connections with the youth.
"I wish the staff and players all the best for 2019 and in their continuing football journeys."