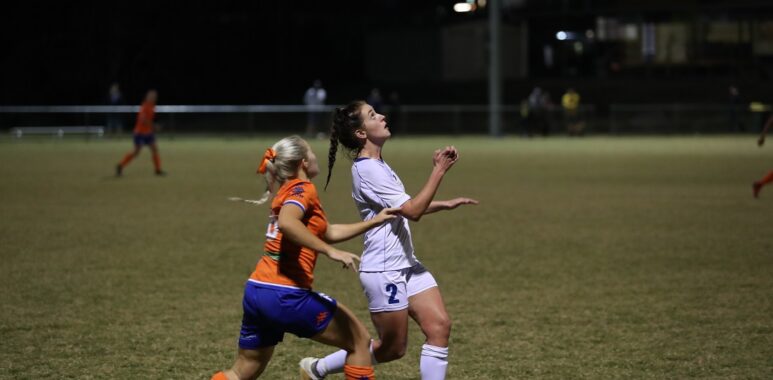 Lowe back for United Women
Jayde Lowe re-signs with the United Women's squad (Craig Clifford / Sportspics)
Talented midfielder Jayde Lowe has returned to the Coast ahead of the opening round of the National Premier Leagues Queensland Women's competition.
Lowe spent the back end of season 2018 at United before heading to the US to study and play football at Drury University in Springfield, Missouri. But the lure of the Gold Coast and the chance to re-link with United and play a full season for the club has brought an early return  to the fold.
"I decided to move back home for a variety of different reasons," Lowe said.
"Primarily, the competitiveness and constant improvement of the NPL here in Queensland ensures I'm always developing and learning new things as a player. It's a professional environment which will give me the best opportunity to pursue my football career."
"I also really value living on the Gold Coast and being close to my family."
Coach, Michael Cook, is delighted to have Jayde back on the park.
"She's both well liked and well respected among the playing group and her presence has already positively influenced all of her teammates," Cook confirmed.
"I expect her to be an important part of our success this season, both creating and scoring goals in an attacking midfield role."
Jayde began her football at the Millthorpe Soccer Club, a small town in central western NSW before joining the Palm Beach Sharks where she worked her way through the NPL ranks from U15's to Senior Women.
Blessed with the skill to create and take attacking opportunities as well as an intuitive game sense, the twenty year old has racked up 16 senior goals in her 36 NPLW appearances – a fair strike rate given her age and considering that her 8 appearances for the club in the back end of season 2018 were all in more defensive roles.
While keen to push for any opportunity to play further forward, Lowe is happy working hard to firstly cement a starting position in the team and to make a positive contribution to the 2019 squad in any role.
"Although I've only been a part of preseason for about a week now, I've been blown away by the intensity of our training sessions.
"Every player brings something valuable to this squad and at training we work hard to get the best out of ourselves and our team mates.
"The squad is competitive, focused and dynamic. We're ready to do some damage this season!"
Gold Coast United head to Heath Park for their opening 2019 NPLW fixture this Friday night with Lowe sure to feature in a squad itching for the season to get underway.
Welcome back Jayde!