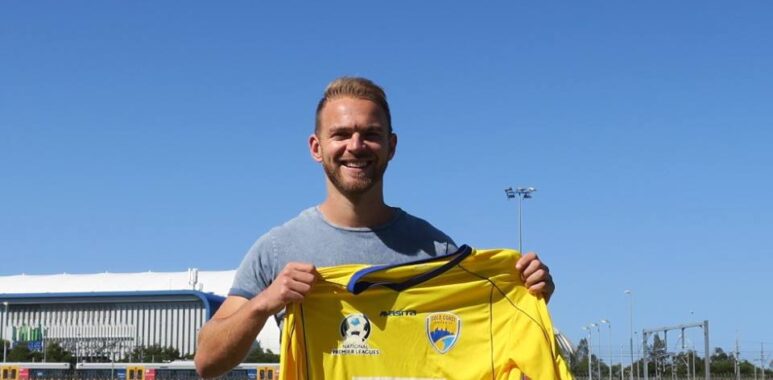 Experienced midfielder, Justyn McKay, has signed for Gold Coast United
Coach Kristian Rees has secured the sought-after signature of experienced midfielder, Justyn McKay, in his quest to assemble a strong 'spine' around which to build his 2019 National Premier Leagues squad.
English born McKay has been a stalwart of Gold Coast NPL teams since the competition's inception in 2013 and boasts an impressive tally of 100 appearances and seventeen goals in Queensland's premier football competition. The 31 year old captained the Palm Beach Sharks to the NPL league and championship double in 2014, playing alongside Rees in that squad. With an equally impressive FFA Cup record, including visits to the quarter finals in both 2014 and 2017, McKay knows what's required to be successful at this level.
After a stellar season locally with Gold Coast Knights the opportunity to link with former Gold Coast United A-League pairing, Kristian Rees and the freshly signed Michael Thwaite, was a significant factor behind McKay's decision to sign with United for season 2019.
"Kristian Rees being appointed first team coach is massive for me.
"I've played alongside Kristian and know what he's about in terms of footballing philosophy, we're on the same page with that.
"And Thwaitey having signed too was a big draw card. Both Kristian and Michael are both very well respected for their achievements in the game.
"I know I can learn a lot from them both and improve as a player."
McKay is also impressed by the Club's plans and is encouraged by the outlook to provide opportunities for local young footballers to take their game to the next level.
"Hearing what plans Gold Coast United have and the way they're going about their business with both the juniors and seniors, it's certainly an exciting prospect for me to get involved with that too, and to hopefully grow the Club and make it a real force.
"With the Club in its infancy, it's the sort of challenge I need, to be a part of a Club with that sort of vision."
Justyn began his football journey as an eight year old at the Swindon Town Centre of Excellence, progressing into their Academy and Youth systems and enjoying a few years as a professional. After venturing to Australia in 2008 for a three month holiday, he 'fell in love with the place' returning in 2010 and calling the Coast home ever since.
As well as being an accomplished footballer, Justyn is also an experienced youth coach holding an FFA B Licence and being heavily involved in coaching across the south-eastern corner of Queensland and Northern NSW. He's looking forward to getting involved with  and growing the Club's community programs via United's partner School and Club networks.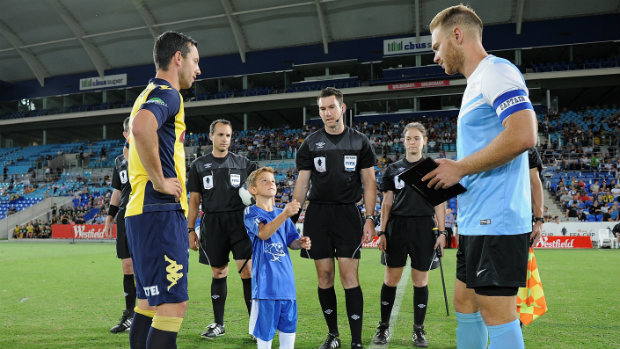 McKay (r) pre-match, Cbus Stadium. Palm Beach Sharks v Central Coast Mariners in the FFA Cup
For Coach Kristian Rees, securing the signature of McKay for season 2019 is another big piece of his plan to assemble a foundation of senior experienced players around which to mould his squad.
"Justyn's a great signing. He's a very talented footballer who leads by example on and off the park."
"He trains like he plays, prepares well and knows how to get the best out of himself and his teammates on game day."
"Off the pitch he relates really well with all ages and having guys of the ilk of Justyn and Michael Thwaite around will set the tone of what's expected across the entire Club.
"He'll be another fantastic role model for the Club's younger players."