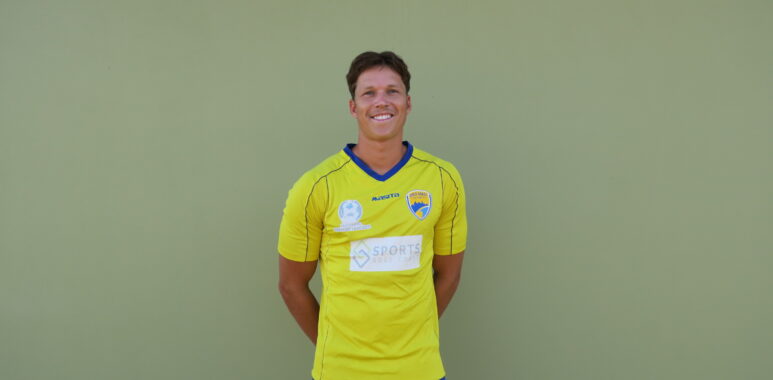 Jarran Pfefferkorn joins Gold Coast United for season 2019
Kristian Rees has added some pace to his front third signing Jarrad Pfefferkorn to his squad for the 2019 National Premier Leagues competition. The athletic speedster joins the growing list of players from Gold Coast Premier League clubs given their chance to step up at this level.
Originally from Coffs Harbour, Jarran has called the Gold Coast home since making the move north for study reasons but now finds himself also focusing on his football.
The 25 year old physiotherapy graduate is somewhat of a journeyman locally.
"My first club on the Gold Coast was Mudgeeraba," Pfefferkorn confirmed. "From there I had a brief stint with Merrimac."
"I also played for Gold Coast Knights in 2017 and last season at Burleigh under Phelo."
Encouraged to trial with United by Burleigh's coach Colin Phelan, Jarran has impressed United's coach Kristian Rees with his willingness to learn.
According to Rees, "Jarran has probably been the dark horse signing for GCU."
"He was playing reserve grade for Burleigh last season before Phelo brought him into the first team.
"I saw him play and he has amazing pace, so after speaking with Phelo I made the decision to see if he wanted to train with us."
"While there are areas in his game which he needs to work on, he has shown a great attitude and willingness to work. If he can improve in the areas he needs to he could have a big impact for us this season."
Pfefferkorn is enjoying the challenge of testing his ability and contributing to the squads performance the best way he knows, by attacking.
"I really like going forward and seeing what sort of damage I can cause."
Surrounded by some experienced players, the winger is thriving on the standards being set and knows that if he works hard his time to contribute will come.
"The United skill set's obviously a lot higher than what I've ever played with before. I find myself learning rapidly.
"Technically they're all a lot more experienced than I am so it's really helping me."
Jarran made his 'official' United debut in Round 2 of the Inter City Cup on Saturday night after impressing in several earlier trials.
Next up the Men play Rochedale Rovers this Wednesday in the final round of the cup, a win against the hosts would secure  a place in the final on Sunday the 27th of January.