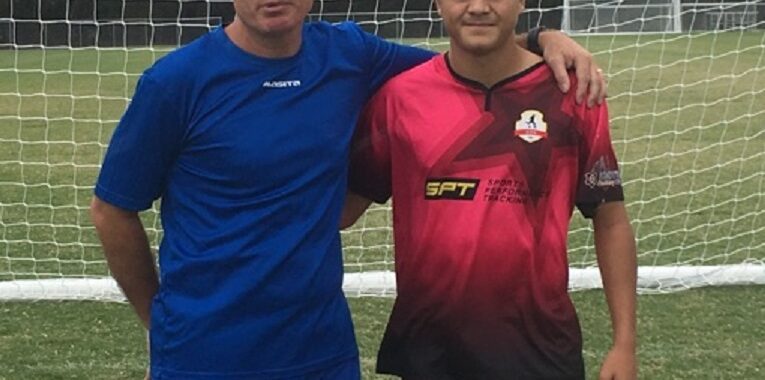 Dominic Bendall-Court with Sean Lane
A rejuvenated Gold Coast United are looking near and far for talent. The 're-born' United are attracting players to their ranks from all parts of the state, inter-state and abroad and have turned their eyes towards some of our nearest neighbors in search of the best talent.
With clear aims to reinvigorate elite football delivery on the Gold Coast with quality pathways for talented local players, United are also keen to forge links with the vast footballing hot-bed which is Asia. Australia was admitted into the Asian Confederation in 2005 and the Club too has begun casting its eyes north west.
Men's Head Coach, Sean Lane, is excited by the opportunities that may arise.
"For me, with a new franchise, I'm always on the lookout for talent. We've got a couple of visa spots for ourselves and I know a lot of other people at other Clubs who are also looking for talented footballers,
"If you can get the best young kids over here, we can put them in an environment where if they're good enough then opportunities might present themselves."
Lane has established a relationship with fellow Brit, James McAloon, who runs an Academy in Vietnam not only for locals but for internationals too.
"Surprisingly one of the issues faced in certain Asian countries is a lack of opportunity. The league in places like Vietnam is small, facilities aren't great, there's not a lot of teams & not a lot of money.
"James approached me looking for ways to provide opportunities to lads over there. It's not only a chance for us to look at the best emerging talent but it also allows these young players an opportunity to develop."
Recently young Englishman, Dominic Bendall-Court, became the first player from McAloon's Rising Star Academy Vietnam, to attend training with Gold Coast United.
Dominic Bendall-Court training with Gold Coast United
Bendall-Court, from Telford, embarked on his Asian adventure to expand his chances of playing football at the highest possible level.
"Coming from Vietnam it's been a great experience. It's safe to say that I've fallen in love with Australia as a total. The whole team's been really welcoming as has Sean."
While down-under Bendall Court also trained with Pascoe Vale in Victoria and according to Lane, "it's been a real eye-opener for him. Pascoe Vale liked what they saw and were prepared to take him on in their U20's.
"He's a top young player and a good kid and has a future here in Australia, football wise, if he wants to put the yards in and work at it."
"I was impressed by his attitude and his ability and look forward to seeing where he can go. I'm also looking forward to offering more players an opportunity to come and train with us and develop their careers."
And for Dominic he now knows what he needs to work on to take it up a notch.
"I'm looking to come back to Australia in the next 6-7 months or so. In that time I need to progress my football.
I've seen what the level's like here, which is the level that I want to be at. I'll go away and work hard on those areas of my game and myself that need improvement."