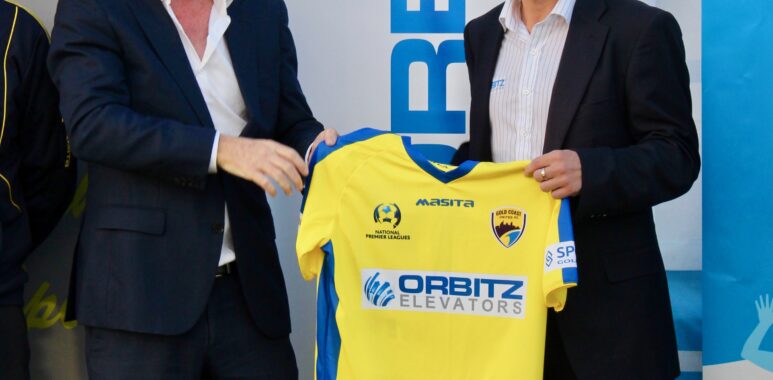 Orbitz Elevators Sponsorship Lift
Gold Coast United Chairman, Danny Maher (l) presenting Orbitz Elevators Managing Director, Jonathan Dwayre, with a jersey to commemorate the sponsorship agreement
Gold Coast United is very excited to announce Orbitz Elevators as a major sponsor of the Club.
Gold Coast United Chairman, Danny Maher, is delighted to welcome Orbitz Elevators to the fold and believes the partnership will foster continued development of the club's grassroots initiatives which aim to provide the best possible pathways for aspiring footballers on the Coast.
"The club is thrilled to be working with such a well-respected Gold Coast organisation to strengthen local partnerships and continue to build football pathways for our players, members and for the broader Gold Coast community," Mr Maher confirmed.
"Not only is Orbitz Elevators committed to the elite men's team, but they're also committed to the future talent coming through the Gold Coast United Academy and grassroots programs."
"Ultimately we want to be back in the A-League and we want to have a W-League side established on the Gold Coast. The support of the local business community is absolutely critical for that to happen."
Orbitz Elevators comes on board as the men's and boys major sponsor, while Bond University, being a significant supporter of women's sport, has confirmed its ongoing support of the Club's female players.
Gold Coast United is focused on providing an open, inclusive club with the best coaching programs and the most connected football pathways in Australia. A key part of that mission is engagement with grassroots football and the local business community. That philosophy has reaped benefits in a very short space of time, with United establishing one of the most successful football academies in Queensland, positioning itself as a gold rated SAP academy all achieved while remaining as equally focused on supporting female football.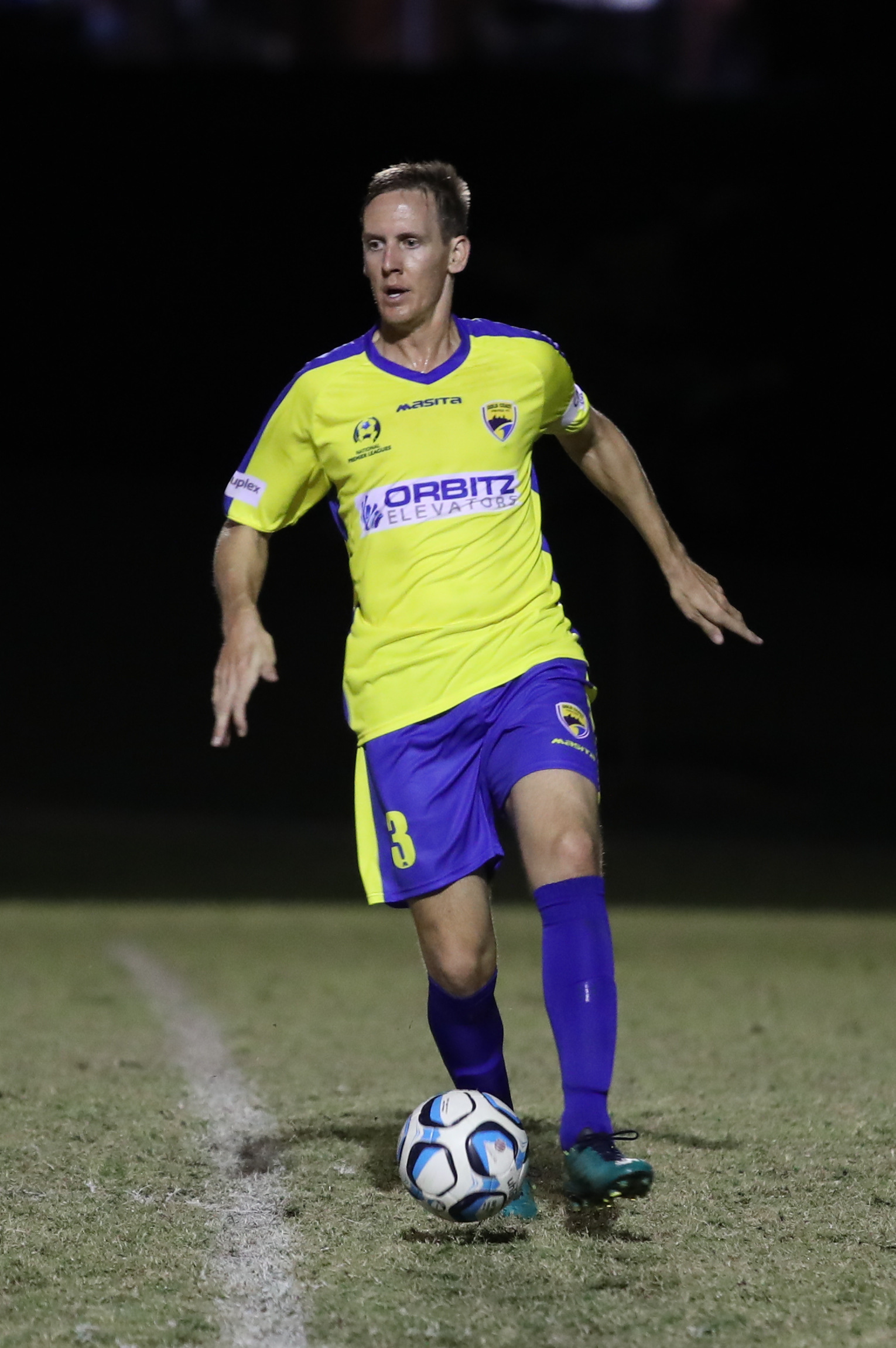 Gold Coast United captain, Michael Thwaite, in the new Men's Orbits Elevators (photo Sportspics)
Orbitz Elevators are professionals in elevator installation, modernisation, maintenance and repair across Australia and overseas.  Founded and based on the Gold Coast, the multi award-winning business is committed to providing high quality elevator products and services to their customers with professionalism and integrity.
Orbitz Elevators Managing Director, Jonathan Dwayre, confirmed that, "our major partnership with the Gold Coast United Football Club is very special to us."
"Being a Gold Coast established business, we take great pride in investing back into our local communities and supporting our local clubs," he said.
Gold Coast United FC is one of the successful projects supported by Sports Gold Coast whose Chairman, Geoff Smith, believes United's success is in no small part due the commitment of skilled and talented corporates getting behind United's vision for the world game on the Coast.
"In a little under two years, Gold Coast United has been brought back and gone from having no club, players, coaches or playing fields to an NPL Queensland Club with over 300 players, girls, boys, men and women,"
"The club now has an $11m home ground facility and some of the best coaches in the country.
"Sports Gold Coast appreciates the support of sponsors such as Orbitz Elevators who understand the long-term beneficial impact their support will have not only on the future success of Gold Coast United and on football generally but also the impact this sponsorship will have on the the wider Gold Coast community".
Your next chance to see the Orbitz Elevators sponsored Mens team in action comes this Wednesday at 'Coplicks' in Tallebudgera with kick-off at 7.30pm.