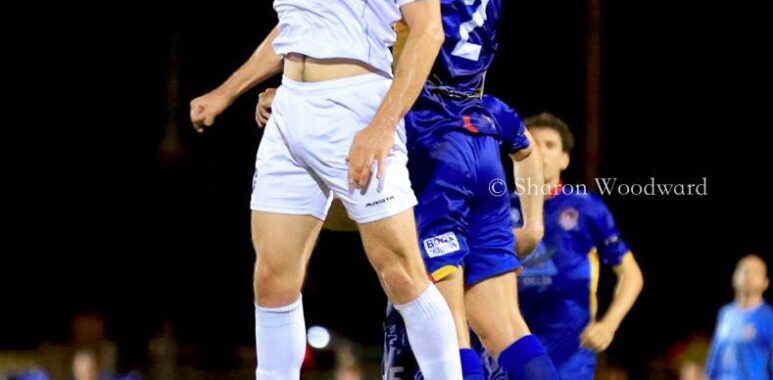 United Return to Winning Ways
Brandon Reeves with another strong showing against North Queensland United (Sharon Woodward)
Gold Coast United held on for a gutsy 2-1 win over North Queensland United at Cornubia Park on Saturday night.
Things started brightly for United going ahead early courtesy of a thumping header from in-form striker Brandon Reeves. That lead was extended shortly after by another piece of individual skill from Reeves, this time a sweet half volley from another pin-point delivery from Rees Duncan. Two nil to the hosts at half time.
North Queensland came out the better after the break, the Coast 'missing' for large parts of the second half. A late own goal gifted the visitors a sniff of getting back into the contest and provided a tense finish with ten minutes remaining.  However the home side hung on for the win courtesy of a late double-save from new keeper Pas Gioffre.
Gold Coast United Coach Sean Lane was proud of his team's performance but was left to rue what could have been.
"We were excellent in the first half and could have had another 2 or 3 goals and that would have been game over.
"Our performance in the second half played into their hands and caused us problems. In the final half hour, they could have nicked a draw or possibly a win.
A road trip for United next up when they head to Mackay to face the Magpies Crusaders..
Lane is under no illusions about the match, all teams, regardless of ladder position, keen for results.
"Next week will be a similar game to today. They will be physical and hard at it and we will need to match them for the endeavour and go from there."
"I believe we have a good enough team to win and we will be preparing to expect nothing else.
"We want to finish as high up the ladder as we can."
National Premier Leagues, Rd 20
Saturday, July 7, 2018
Cornubia Park Sports Complex, Shailer Park
Gold Coast United              2  (Reeves 6' 31'
North Queensland United  1  (OG 80')