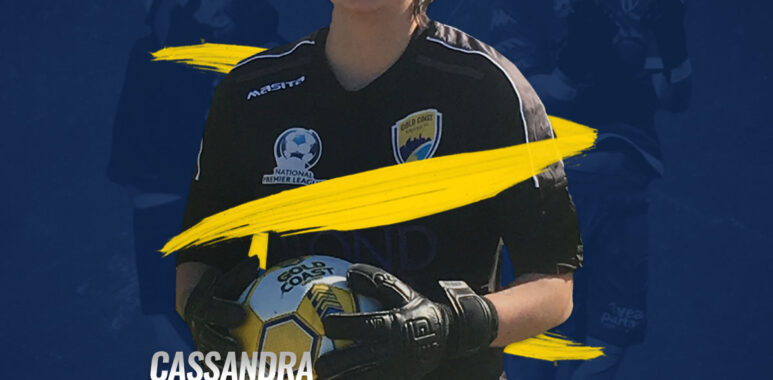 Cassandra Zaffina signs on for United
Cassandra Zaffina is the latest addition to the United Women's squad joining the Coast from South Melbourne FC where she's been a regular starting goal keeper in their women's NPL squad.
Zaffina started her football journey with Sandringham SC as an outfielder playing 'with the boys', eventually earning a trial with Adelaide United as a 17 year old striker.  Cassandra spent some time at GCU Partner Club, Alstonville, before returning to Melbourne and playing with the Caufield Cobras in the Victorian WPL.
For Coach Michael Cook, the arrival of Zaffina, who has over 17 years in football, is a timely boost to the squad's depth.
"Cassie adds a lot of experience and knowledge to our team and will improve our organisation at the back.
"She's the right type of person that we need at the club to fulfill our ambitions … ready to work hard to help the team be as successful as possible."
The move from attacker to goalie was one forced upon the one-time striker.
According to Cassandra, "it wasn't until I got the news I had a medical condition that would mean I would have to give up the game all together. I then found a way to still play and that was goalie."
Zaffina first donned the gloves for Alamein FC before being scouted to join South Melbourne. Having spent the past 18 months with the Victorian 'heavyweights' the lure of the Gold Coast and a new challenge were the catalyst for a shift north.
"I felt like I needed a change in my life and everyone I know says Gold Coast is amazing and I loved it every time I've been there."
"I don't know a lot about the Queensland NPL but I know it's similar to our NPL … but opportunities up here are greater.'
Zaffina's time as a striker has given her an edge when it comes to her ability to understand and read play. Rating her shot stopping and distribution as her key attributes, Cassandra hopes that her athleticism will also help make a difference when she gets her chance between the sticks.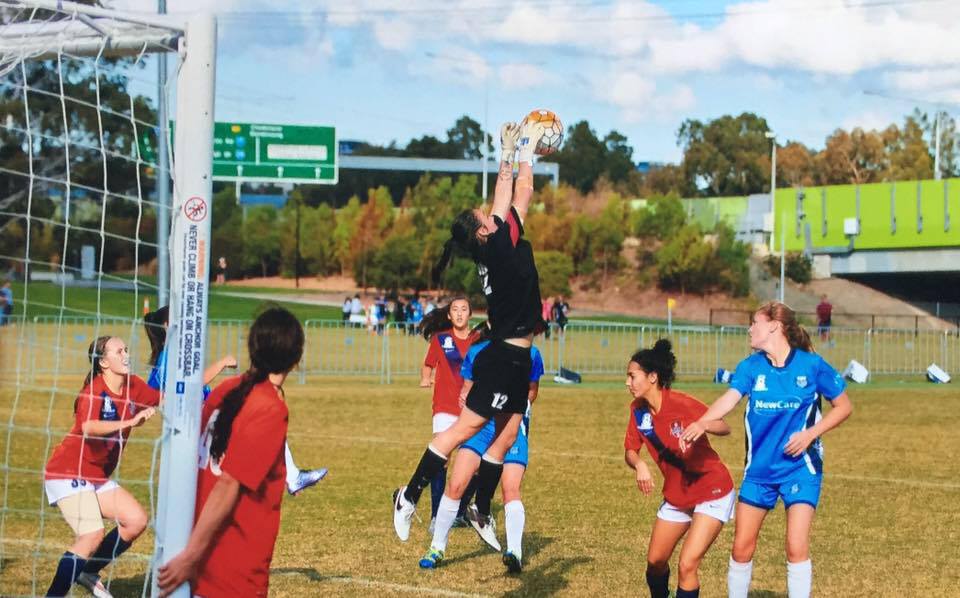 Zaffina in action
"My goal for this season is to really be a big influence in doing everything and anything I can in order to help my team mates and help make finals."
That opportunity may well come sooner than expected for the Coast's newest signing when Lions FC visit Robina this Sunday. Lions sit second on the ladder 5 points adrift of league leaders Souths United but with a game in hand. In the reverse fixture in Rd3 Lions prevailed 3-2 at Richlands with the Coast storming home after a slow start. Meg McElligott scored both of United's goals that day and will be looking to repeat the dose on Sunday.
Kick-off at Station Reserve is at 5pm.