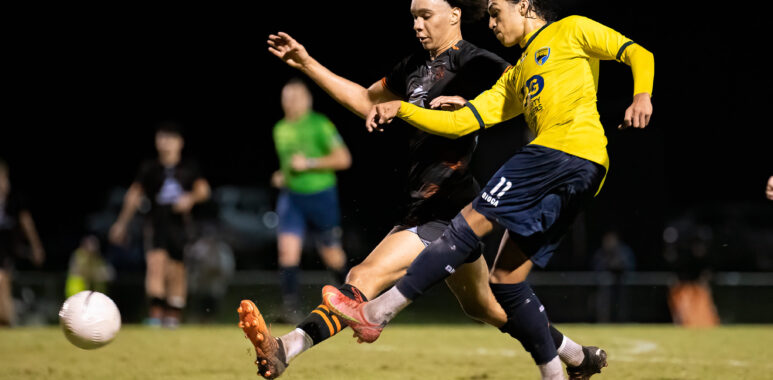 Zahi Addis signs with Roar!
Zahi Addis in action for Gold Coast United against Brisbane Roar Youth, Rd1 of the NPLQLD,
Brilliant news for young gun, Zahi Addis, who joins the Brisbane Roar A- League Men's setup on a youth development contract after impressing in recent trials.
Addis is the first Gold Coast United player to progress from our Academy ranks, via our Men's senior squad to the professional leagues.
Born in Sydney but raised in the Northern Rivers, Zahi came to United after previous stints at the Newcastle Jets Academy, having played his junior club football at both Mullumbimby Brunswick Valley FC and Byron Bay FC.
A left sided player blessed with a motor that allows him to get forward and track back with similar ease, Zahi made his Men's debut in the National Premier Leagues Queensland competition in August 2020, a month shy of his 17th birthday.
Technical Director, Craig Midgely, spotted his potential early.
"From the time he joined us in the U14's, Zahi showed that he had some quality, some key attributes that are needed to play at the highest level.
"He has a real hunger to do well and over the next 12 months I'm sure he'll step up and grab this opportunity at the Brisbane Roar."
"We are very proud of the development system we have at Gold Coast United and when players like Zahi get this sort of recognition, it's very rewarding as a Club."
Another impressed by the fleet-footed Addis is Warren Moon, Head Coach of the Brisbane Roar.
"He's an exciting talent," Moon confirmed.
"We have a very close working relationship with Gold Coast United, they are a great producer of talent."
"They've been very accommodating, helping us not only identify him, but allowing us to also bring him in to train with us.
"He's been really good since he's come in."
As for the player himself, Addis is thankful to have been given the opportunity to extend himself with Brisbane Roar, "to develop as not only a player but a person as well."
He's also grateful to Gold Coast United, "for giving me a platform in which I could express myself."
"I can't thank coaches Grae Piddick and Dave Provan enough for the effort they've put in to help me develop".
As Head Coach of Gold Coast United, Grae Piddick has witnessed up close the potential Addis has.
"I am so pleased that he gets an opportunity to test himself at the next level. It's a credit to his hard work and dedication."
"Players stepping up and being offered these sorts of opportunities is testament to the great development work that the Club prides itself on and hopefully he can kick on and establish himself."
Congratulations Zahi, everyone at the club is excited for the next stage of your football journey.
We'll be following your progress with much interest and supporting you on the sidelines. Rip in!