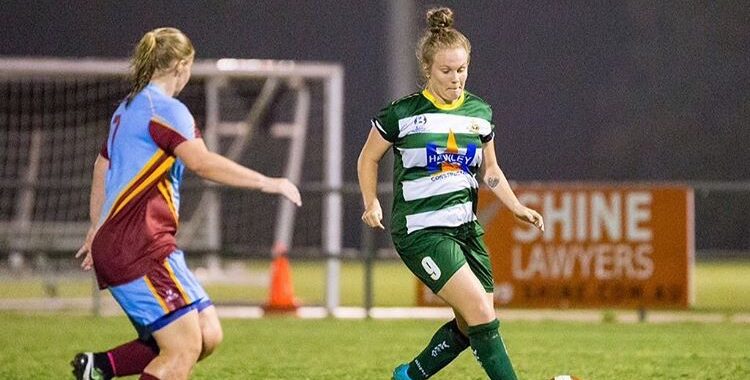 Georgina Adnum in action for Western Pride
Gold Coast United has strengthened it's defensive stocks with the signing of Georgina Adnum to the Women's 2019 squad.
For Coach Michael Cook the addition of Adnum to his squad is a real bonus, a player with Georgina's experience willing to join the Club is a real positive and a sign that things are certainly on the right track at United.
"Georgina comes to us from Western Pride where she was clearly the most talented player for them in 2018," Cook confirmed.
"She's a rock solid player, adept at either centre-back or in holding midfield.
"I am very excited about the positive affect Georgina will have for us this season."
Adnum (22) made 44 National Premier League appearances for the Western Pride women. Prior to her time at Briggs Road,  Georgina played in her native Gladstone for the Gladstone Meteors after spending several years in the US College system including a stint with Union College, Kentucky.
Having now spent time in pre-season with the Women's squad and having adjusted to the tempo and expectations, Michael Cook is confident that Georgina will extend herself once the season gets underway and be a valuable contributor in season 2019.
"She has that rare combination of great strength and physicality along with being technically gifted.
"I expect that once she's had a strong pre-season preparation, we'll see Georgina performing at a very high level and she will play an important role for us in the 2019 season."
Welcome to the club Georgina!