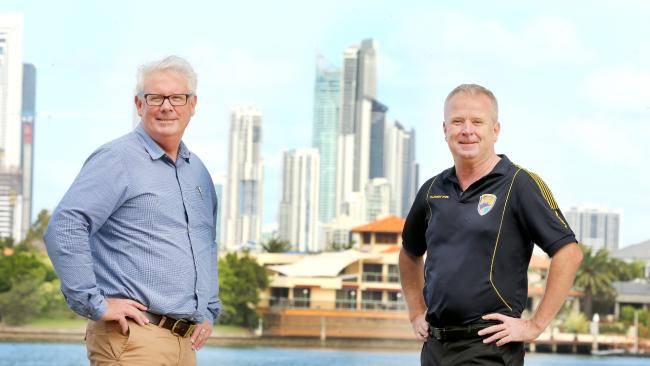 Done Deal – Coplicks confirmed as United home!
Geoff Smith, Chairman of Sports Gold Coast and Danny Maher, Chairman of Gold Coast United FC (Mike Batterham / Gold Coast Bulletin)
An historic moment at the City of Gold Coast Chambers today with the confirmation of a long-awaited 'home' for Gold Coast United.
After years of hard work, a mountain of meetings and negotiations with various football stakeholders and countless hours of volunteers' time, the long held vision of many has been affirmed with Coplick Family Sports Park in Tallebudgera confirmed as the 'official' home of Gold Coast United in 2019.
A very grateful Geoff Smith, Chairman of Sports Gold Coast, was there when the decision was handed down and was quick to thank and congratulate the City of Gold Coast for working with the club's Board, in particular Danny Maher and Mark Anderson, and United's team of volunteers to achieve this major milestone in the development and promotion of football on the Gold Coast.
"Overall Gold Coast United were outstanding in its inaugural National Premier Leagues Queensland season, operating under difficult circumstances without having a proper home ground and training facilities," Smith confirmed.
"Sports Gold Coast appreciate the faith and trust that had been placed in Gold Coast United by Council to utilise this $10 million plus facility and is confident that they will be rewarded with massive dividends in the long term for the sporting community across the Gold Coast."
Smith went on to reiterate that, "there's still a lot of hard work and challenges ahead with the rebuilding of the existing clubhouse, fencing etc. but Gold Coast United and its hardworking dedicated board and volunteers are up for that challenge."
"Eighteen months ago we did not have a football team, coaches, staff, a home ground or training fields but we had a lot of talented and hard-working volunteers, a clear vision and strategic plan and over 1,000 girls, boys, men and women aspiring to be players."
"We have a long way to go but ticking this box is both rewarding and a boost to Gold Coast United's confidence and energy levels."
Gold Coast United Chairman, Danny Maher echoed Geoff Smith's heartfelt thanks for the efforts and energies of the many contributors that have spent time working to see the vision for a truly Gold Coast united football club emerge and take flight.
According to Maher, "it's been an enormous amount of work to secure a new home."
"Thank you to council and in particular to the councillors lead by Mayor Tom Tate, including local Cr Gail O'Neill and Cr Bob La Castra for the support he gives football and for working with us while we were in his division and looking for a permanent home "
"The club are very privileged to be granted the opportunity to use this fantastic multi-million-dollar facility. It is truly first class and among one of the best in this region and sees the club very well positioned to build on a tremendous first year and look to achieve the goals that have been set to provide the very best opportunities to local young footballers to follow their dreams."
"The successes that have come the Club's way in our inaugural season in the Queensland National Premier Leagues and SAP competitions take a huge effort from everyone involved."
"Having Coplick is a massive boost not only for the club but for football generally on the Gold Coast."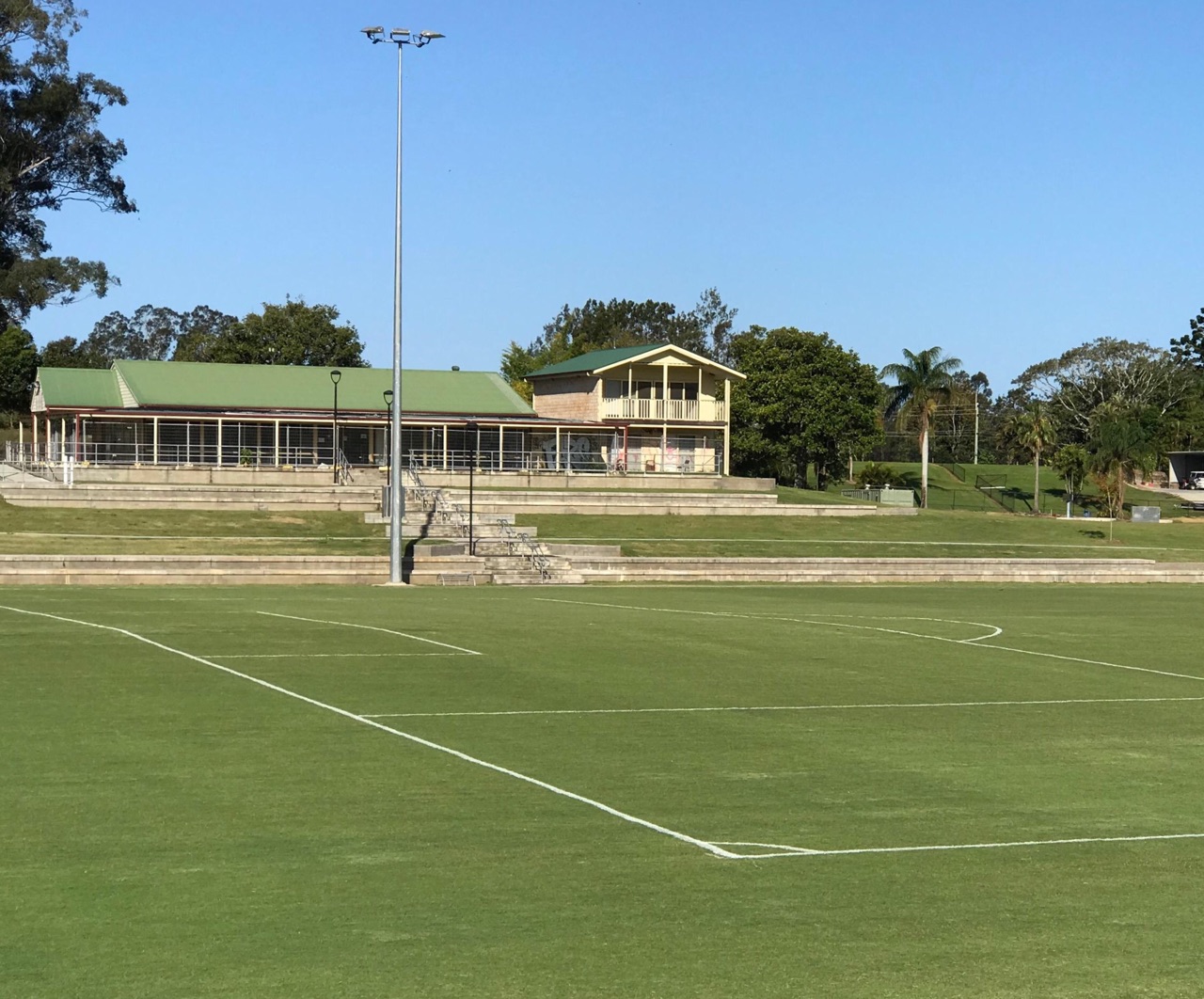 View of the Coplick clubhouse across Field 1
"Our role is to provide the best possible opportunities for all young local footballers to succeed and today Council has delivered a massive vote of faith in Gold Coast United to continue our efforts to grow and deliver for football in the region.
"With the invaluable support of Council, Sports Gold Coast, the local business community and our dedicated volunteers, that work continues with renewed vigor."
The decision to award Gold Coast United a lease over the 'north' Coplick Family Sports Park in Tallebudgera caps a significant investment by the City of Gold Coast into this now 'first-class' sporting facility and local Councillor Gail O'Neill is buoyed by today's landmark decision.
Councillor O'Neill believes "this is great news for the Southern Gold Coast where there is an ever increasing demand for sporting facilities."
"To have a top tier football team operating from this facility is a great outcome for both parties and shows our investment in the facility has paid off."
"The facility includes two lit and irrigated rectangle fields, a junior field, a new amenity building and an existing club house which Gold Coast United have indicated they would like to renovate."
"The City will continue to manage the use of the fields through the Right of Use Program and maintain in line with the remaining sports fields within the city."
With the ink yet to dry on the agreement, which is set to take 'official' affect from the first of January 2019, attentions for both Sports Gold Coast and Gold Coast United turn to addressing the immediate needs of determining the works required to see the Clubhouse facility operational as soon as practicable in the new year.