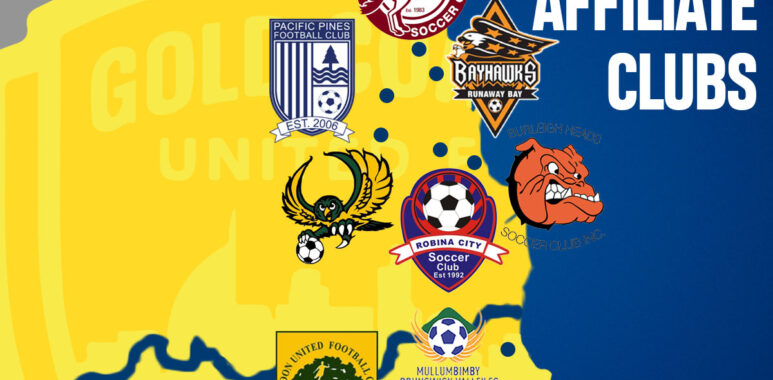 Gold Coast United is committed to offering the best possible football pathways to as many young footballers as possible.
With a diverse and exceptionally experienced and qualified coaching staff, GCU is working hard with local Community Clubs to improve the overall standards of football in the region and to offer pathways for both players and coaches looking to take their football to the next level.
To that end the Club is very proud to welcome Alstonville, Dunoon and Mullumbimby Brunswick Valley on board as Affiliate Clubs.
Gold Coast United's CEO, Troy Bingham, is 'over the moon' about having more Northern Rivers clubs involved.
"It's fantastic to welcome these Clubs.
"The Northern Rivers is on the Coast's doorstep and there's a healthy smattering of players from these Clubs already in GCU squads, in our youngest teams right through to our Seniors.
"The Northern Rivers has a long history of producing talented footballers. There are young players from the region playing at the highest levels of the game across Australia and the globe.
"United is committed to engage with the region, work with interested clubs, their coaches and players, share knowledge and provide these Clubs with some of the tools they need to improve on what they are doing with such energy and enthusiasm already."
Having only yesterday made its intentions clear about joining the Hyundai A-league and the Westfield W-league, Bingham believes that it is crucial for United to remain focused on extending the Affiliate network and working with Community Clubs for the benefit of football as a whole.
"Obviously the announcement is very exciting for us, but it's also exciting for our region. We all know the history. We all have thoughts on how things need to be done better.
"The core focus of our Football Club is the development of young players to achieve their best and we believe that aligning with Community clubs who share that same vision is paramount for this to happen. Let's all embrace the present and work together to grow the game."
"There'll be an enormous amount of work to do around the bid process and we have the resources and a lot of very talented and committed individuals to focus on that."
"But we also have a Football Department with some great Coaches and Assistants who are just as focused on delivering programs that our Affiliates, both Clubs & Schools, can benefit from."
"There are lots of exciting initiatives, including an 'Affiliates Cup' planned for July, and now that the dust has settled a little around the bid announcement, we can turn our full attentions once again to football and continue to work hard on that."
In the coming weeks United will reveal more plans for their Affiliate network with a meeting scheduled for April.
Best of luck to all Affiliates in your respective Cup competitions and as you embark on your 2018 seasons. Gold Coast United will be watching with much interest.
If your Club or School is interested in finding out more about our Affiliates programs, contact James Coutts, Community Development Officer, jamesc@goldcoastunitedfc.com.au