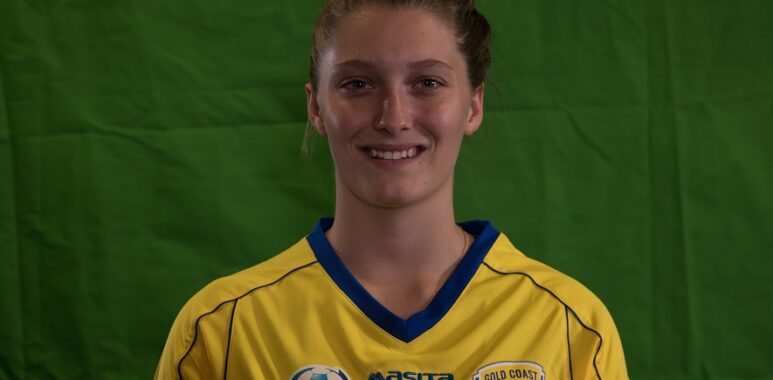 Krista Ruehe
For Krista Ruehe the chance to play for Gold Coast United in the Women's National Premier Leagues was the motivation to return to the 'big' form of the game.
Having competed at both National & International level in Futsal, the opportunity to step up and test her ability against the best of the best in outdoor, provided Ruehe with the drive to trial for the Club.
Krista is one of the many GCU Women and Girls who put in the miles, on and off the field, travelling to train and play on the Coast from the Northern Rivers. Hailing from Mullumbimby, the travel doesn't phase the 19 year old.
"So far I'm loving playing for GCU in the NPL."
"We've got a great bunch of girls … and the facilities we have available, gives a very professional feeling which is one of the main reasons I decided to play in the comp."
The skills and experience gained playing in the Futsal nationals have certainly helped Ruehe's transition to NPL.
"I think Futsal is so beneficial; creating quick thinking, fast feet and smart decision making.
"The hardest thing for me has been adjusting to the lighter ball and uneven ground."
Women's Coach, Michael Cook, is impressed by how well Krista has adapted.
"Originally Krista came into the squad as a train-on player only, but by sheer determination she quickly earned an official place in the squad.
"As a player she is a dream to work with for a coach. Great work ethic, follows instructions implicitly, a player I really trust to deliver the performance the team needs from her.
"Her best attributes are that she is a terrific athlete, and her positional sense is very good."
With a run of tough matches that begin with a visit to the Gap today, the Women's squad are looking to put the past few weeks behind them. And for Krista, having found a place in the starting squad in recent weeks, she knows that she'll need to continue to work hard, personally and for the team.
"The biggest focus has been keeping positive.
"The competition starts this weekend for us being the underdogs against the Gap. We're coming into this game with everything we've got."
Michael Cook has confidence in both his squad and in Ruehe, who recently scored her first goal for season 2018.
"Krista has become an integral part of how we want to play, and I expect her to continue to contribute to us reaching our goals for the season."
Today's game vs the Gap kicks off at 6pm at Walton Bridge Reserve.