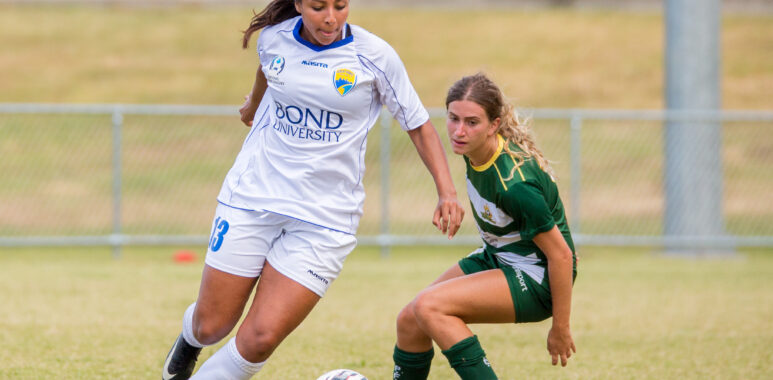 Coast so close to bridging The Gap
Anjel Brown in pre-season action vs Western Pride. Photo Chris Simpson
In a see-sawing affair, Gold Coast were pipped on the bell by the resilient Gap.
A frenetic second half produced six goals, after the United Women lead 1-0 at the break thanks to an Anjel Brown header, her first goal for season 2018.
The unfancied Surfsiders travelled to Walton Bridge Reserve to face many pundits pick for the premiership in the 2018 Women's NPLWQLD competition.
Having reset their sights leading into the game, United started well, Brown's third minute header and some resolute defending saw the visitors in front at the turn.
But The Gap are a quality side and their skipper, Ruth Blackburn, equalised early in the second half.
To their credit the Coast responded quickly, Brown scoring her second. That lead was short-lived though, with Blackburn equalising again soon after, 2-2.
Blackburn, a former W-League premiership winner with Brisbane Roar, put the hosts ahead with her third goal with 17' left on the clock. But again the visitors responded almost immediately, Mackenzie Akins squaring things up, 3-3.
The final word however belonged to Blackburn who sealed a 4-3 win for the hosts with her fourth goal in stoppage time.
After the match a disappointed United Coach, Michael Cook, echoed his squad's sentiments.
"We were the better team for most of the match and to not get the reward we deserved tonight, we're devastated."
Cook was however delighted with the effort and energy from his squad.
"There's no way I can pick out any one individual to praise tonight, every player that stepped on to the pitch played terrific football and worked incredibly hard".
"The big positive from the match is that we showed without doubt that we are one of the best teams in the league, and performances like this will see a winning run of games on the way.
"We'll be climbing the table in no time."
With a break over Easter, the Coast will be looking to return to winning ways when they travel to Ipswich on the 7th of April to meet the Western Pride, a team they defeated in pre-season.
National Premier Leagues Women Queensland – Round Eight
Saturday, March 24, 2018
Walton Bridge Reserve, The Gap
The Gap                             4 (Blackburn 49', 54', 73', 90'+)
Gold Coast United              3 (Brown 3' 51'; Akins 76')