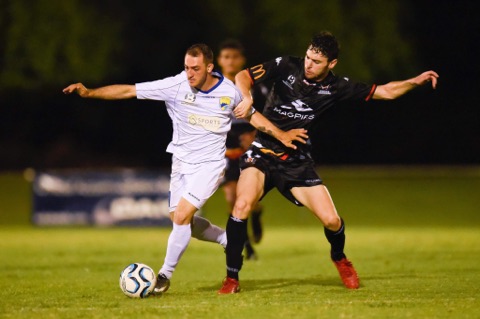 Nick Panetta with another strong display for United.  Photo Patrick Leigh Perspectives
A strong performance across the park from Gold Coast United secured back to back wins.
After a gritty victory in Townsville in Round 7, United built on recent good form to record their third win of the 2018 campaign against the visiting Magpies Crusaders at Meakin Park.
Coach Sean Lane was full of praise for his side after the game.
"I'm delighted, an excellent performance. Probably our best performance of the year.
"All the things we've been working hard on at training, they brought to match day.
"Show time and we turned up."
United dominated the Magpies whose preparation was hampered by the loss of two players to injury at training mid-week. The woes continued for the visitors with another casualty during the warm-up.
Carlos Garcia, the Crusaders' Coach, while disappointed with the result, sung his sides praises too post game.
"I got to be honest, I'm very proud. All the adversities we have and still going, so really proud.
"We play with three U17 players. They did their best obviously.
"Hopefully we will get some more players soon to help the youngsters, lift them up."
The Coast's early weight of possession was rewarded on 23 minutes when Matt Green scored the opener, a long range screamer, his maiden goal for the Club.
More sustained pressure coupled with some slick ball movement resulted in United's second goal on the half-hour, with Conor Smith tapping in a Nick Panetta pass after excellent build-up play.
Leading 2-0 at the break the Coast continued to press forward with Lochie Reus and Green instrumental in much of United's attack.
Reus was involved in the United's third goal when left in acres of space from a corner, He rifled a long range shot that deflected off Jack Gates into the goal. In the aftermath, Magpies Spanish defender Pablo Perez received his marching orders from referee Paul Eldridge after disputing the goal – their players calling for a handball – Eldridge having none of it.
It was the elusive Reus who 'teased' a clumsy challenge from a tiring Magpie late on, drawing a foul in the box. Conor Smith converted the penalty, his second goal for the night – the icing on the cake for the Coast.
A late consolation goal to the Magpies best, Kyle Markham, rounded out the scoring. United securing all three points with a 4-1 win.
For Lane the result confirmed the building momentum of his squad, the result of some astute recent signings and lots of effort on the training ground.
With two tough away matches against Western Pride and then Lions after Easter, the gaffer has his sights firmly fixed on the task ahead.
"We've got two big games coming up.
"The expectation is that we'll be going hard at training and we'll train to win both of those matches."
National Premier Leagues Queensland – Round Eight
Saturday, March 24, 2018
Meakin Park, Slacks Creek
Gold Coast United              4 ( Green 23'; Smith 27' 90'+1'; Gates 74')
Magpie Crusaders United   1 (Markham 90'+3')