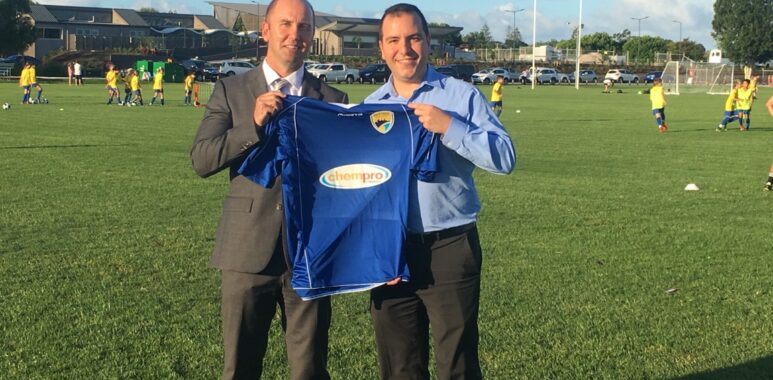 Chempro Chemists Community Focus
Troy Bingham (Gold Coast United CEO) & Paul Jaffar (Chempro Chemists) at Emmanuel College
Gold Coast United FC is focused on engaging with the wider Community and building long-term relationships that foster grass roots Football development.
This goal is best achieved by aligning with like-minded local Clubs and businesses also keen to offer the best possible opportunities to all young footballers to achieve their goals.
Chempro Chemists is one such local business who have pledged their support to these aims. The Chempro group boasts over 80 pharmacies across the region and an on-line presence as well. Board Member, Paul Jaffar, is an active member of the Gold Coast and Northern Rivers communities.
According to Jaffar, "we're delighted to be sponsoring Gold Coast United. I'm sure it will be a very successful partnership.
"Chempro is certainly supportive of sport and the sporting community and we certainly see Gold Coast United as being very successful into the future. We're very happy to be able to support the Club."
For United CEO Troy Bingham, forging a mutually beneficial relationship with Chempro Chemists was a perfect fit for the Club.
"All local business owners want to see the Coast & Northern Rivers flourish and our young people achieve great things.
"A business like Chempro has the same aspirations as the Club. They offer a great service and are focused on assisting people reach their full potential."
A key facet of the relationship for Chempro is the Community aspect which has been on full display recently at United's free U5-8's Skills Sessions.
These sessions are open to all aspiring young footballers and are run by experienced, highly accredited GCU coaches offering a fun but focused opportunity for young players to develop the skills they require to take their football to the next levels.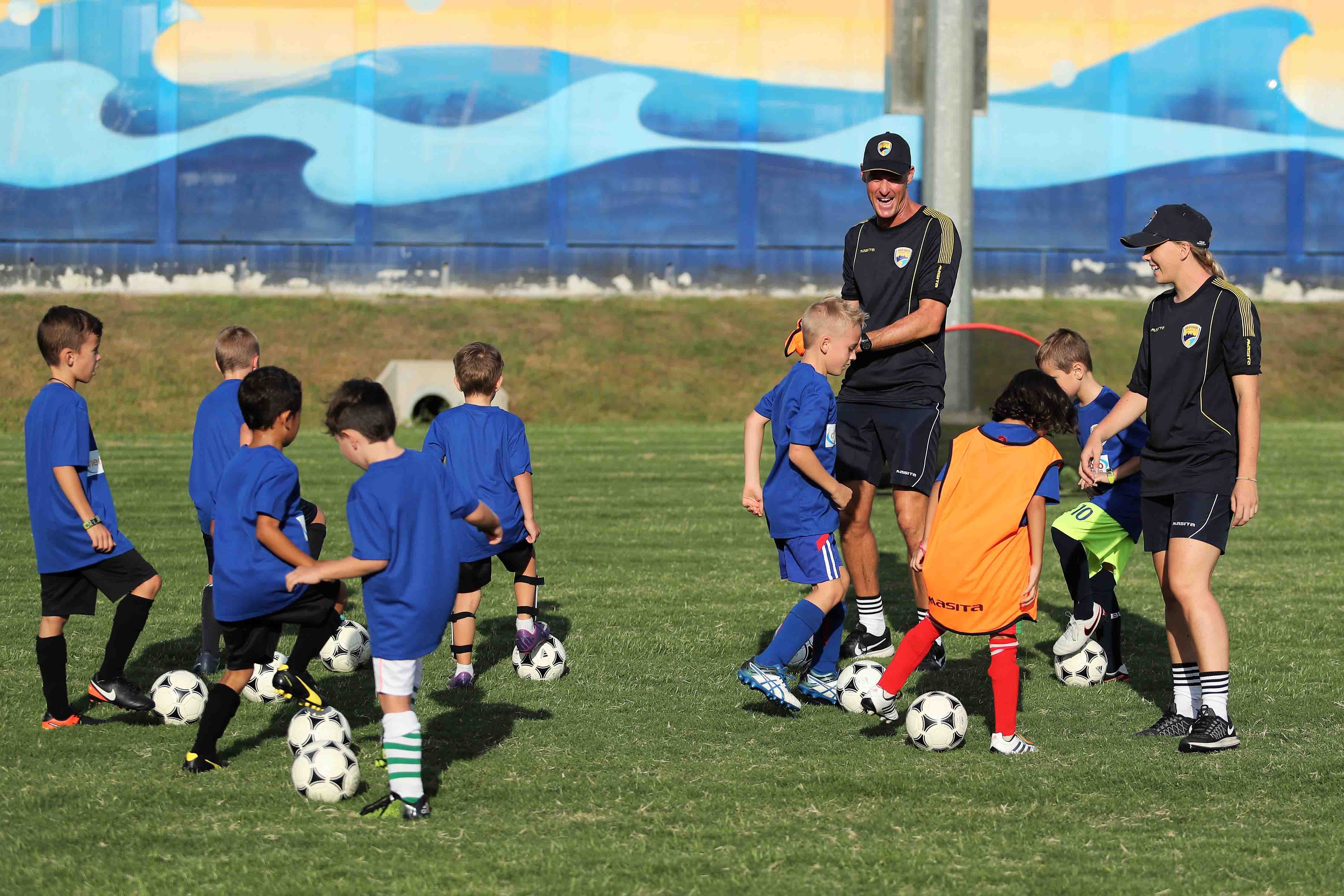 United Coach Ben McCabe & Women's player Dee Thompson leading a Chempro Community free U5-8's Skills Session
United CEO Troy Bingham understands how vital it is to teach young players the skills to progress successfully through the sport.
'It needs to be done subtly from the start, the right combination of skills with lots of fun.
'At the early stage, the focus should be on developing a love for the game. But there also needs to be a clear vision on developing the right skill base too.
"The more programs the Club can offer youngsters that deliver this the better it is for long term Youth development. We need as many kids playing the game as possible and if we can engage them early they naturally want to improve.
"And that's where having businesses like Chempro Chemists involved is so vital.
"United wants to offer young players opportunities for as little cost as possible. Running free skills sessions is only achievable due to the involvement and generous support of Chempro Chemists."

Development Coach Cristobal Soto instilling the love for the game with some Skills Academy participants (Sportspics)
Chempro's Paul Jaffar knows the longer term benefits of healthy lifestyles and choices and is heartened by the work being done by the Club to engage young people in the game from such an early age.
"We share a similar business philosophy, encourage people to take a keen interest in their lifestyles as early as possible.  We very much see ourselves as being health care hubs and health care destinations within the local community providing a range of health products and services that benefit many people.
"Aligning with Gold Coast United is definitely beneficial to both parties, two strong and well-known brands coming together with aligned key objectives is a partnership for success."
Already benefitting from that partnership, the next opportunity for youngsters to take part in the 'free' Chempro U5-8's Skills Session is on Saturday the 12th of May when Gold Coast United return to Robina Station Reserve after an enforced Commonwealth Games 'layoff'. Click on the image to find out more!