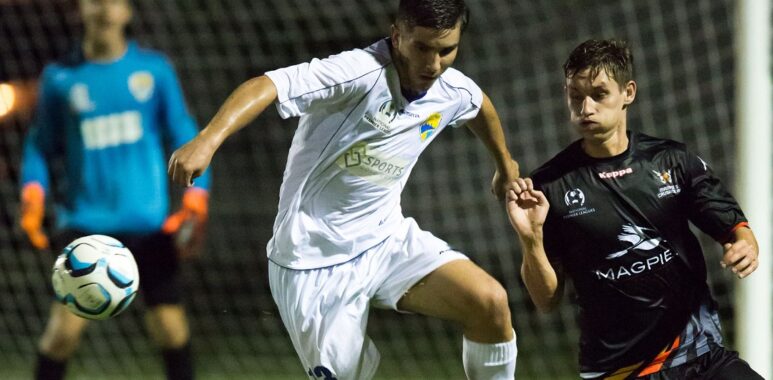 Weier Relishing Opportunity
Lachlan Weier in action against Magpies Crusaders (photo Langevad Sports Photography)
For United's newest recruit a trip to Ipswich to face one of the competition's front runners is one of the reasons he made the move to the Coast.
After a stint with the Brisbane Roar, 19 year old left back Lachlan Weier spent 2017 at Strikers under the tutelage of his now coach Sean Lane. The former Queensland Schools' representative started 2018 with Wynnum Wolves in the third tier QPL and made the move south to once again link with Lane.
"Laney called me up and it was a pretty easy decision to make the move and get back into playing in the NPL."
The young defender knows what to expect from the home side at Briggs Road tomorrow night having played with and against many from the Pride side. A recent fixture in the Coast's back four since his arrival from Wolves, Weier lays a lot of United's recent improvement at the feet of a more cohesive defensive effort and sees this as the key again in tomorrow night's fixture.
"The back four's been more settled of late and the whole focus is on not conceding.
"We're building on that mentality and if we bring that to game day, it should end in a good result."
Western Pride, the National Premier Leagues Queensland 2017 Champions, have started 2018 in fine attacking form but Coach Sean Lane is adamant that the Coast are well placed to rattle the host's cage.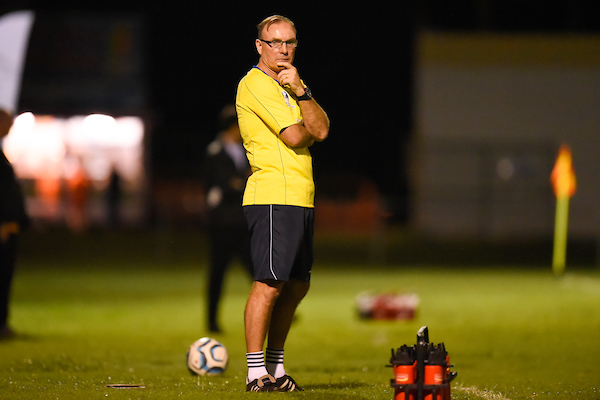 A thoughtful Sean Lane, Rd8 v Magpies Crusaders at Meakin Park (photo Patrick Leigh Perspectives)
"Pride are a well organised and aggressive outfit and are scoring plenty of goals, that's why they're at the top end of the table."
"For us, we have a full squad to select from, apart from James Coutts who has a slight rib injury. Stollery and Wagstaffe are both back and keen to play."
"And our three most recent signings (Green, Gates & Weier) have made a difference to the way we play adding pace and guile.
"We are going to Western Pride full of confidence."
Kick-off at Briggs Road is at 7pm.
You can follow live updates on Twitter – @WesternPrideFC & @gcunitedfc.
Half & Full-time scores will be posted to the Gold Coast United Facebook page.