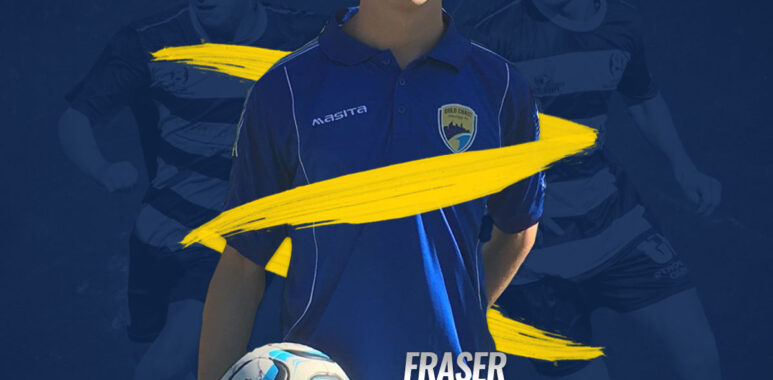 Fraser Hills, the newest addition to the Men's squad
Fraser Hills is the latest addition to the Men's squad at Gold Coast United.
Hills has previous links to the Coast having played locally for the Musgrave Mustangs in 2013. Hills was also a part of Strikers triumphant 2016 Premiership winning squad before he headed south to link with Port Melbourne in the Victorian NPL in 2017 before returning to Queensland and playing at Western Pride FC.
Hailing originally from England, Hills spent some of his junior years with Tottenham Hotspurs FC before his family made the move to the Gold Coast.
Being heavily involved in a family business on the Coast meant managing his work and training commitments with Pride became a strain, a factor in his decision to link with United closer to his Gold Coast home.
According to Hills travelling two and half hours to and from Ipswich for training a few nights a week became hard, especially with work commitments too.
"I've been living on the Gold Coast for 10 years and training here's only twenty minutes from my house so it's ideal."
Hills' decision for a mid-season switch was also helped by his association with Men's Coach Sean Lane, the pair previously involved together at Brisbane Strikers.
"I'm also happy that Sean Lane was in charge, he's not only a good coach but he's a good friend of mine too."
The young attacker has a good feel about the United squad.
"It's been pretty remarkable at training so far, I've enjoyed it. The discipline and intensity at training is good. Sean's very behind the boys.
"And with the new signings and boost to the squad I think we can go on and get some crucial wins."
Having spent several seasons with the midfielder at Strikers, Lane knows full well what Hills brings to his squad.
"This is a great signing for the club, Fraser's a Gold Coast boy and will fit in well with our group. He's a clever footballer with an eye for goal and I think he's a better player now after spending a year in Melbourne.
"He is one of the best midfielders in this league and I'm looking forward to seeing him, Smith, Prasad and Panetta play together."
Fraser Hills in action for Western Pride (Chris Simpson)
That chance may come as early as this Saturday night when Redlands venture south to Robina for a Rd16 matchup.
The Baysiders got the better of the Coast in Rd3 at the Cleveland Showgrounds, a Kuboyama brace secured the hosts a 2-0 win. The tide has turned in the United's favour recently though, the Coast head into this one following four successive wins. Redlands on the other hand have been on struggle street losing their last five matches and will be desperate to turn things around to start their climb off the foot of the ladder.
Much to his disappointment, former Redlands' player Jayden Prasad sits this one out after accumulating 5 yellow cards.
Kickoff at Robina is at 6pm.