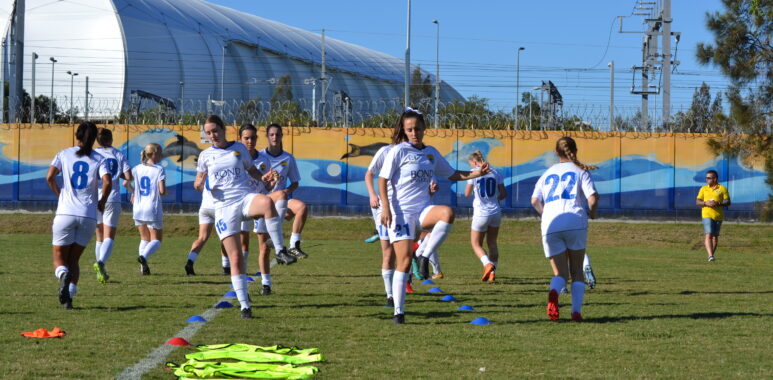 Coast run halted by Mitcelton
Women warming up before Mitchelton
Gold Coast's three game unbeaten run came to end at the hands of a determined Mitchelton side at Robina yesterday, with the visitors running out 3-1 winners.
Darcie Wilson opened the scoring early with an indirect fee kick from inside the box after a defensive lapse from United. Deeanna Thompson responded for the home side after a sweeping movement down the right found the attacker on the edge of the 18 yard area. A smart turn and powerful left foot shot wide of Emma Taylor squared the ledger.
The remainder of the first half was an even affair until Annie Evan's free kick from distance found its way through a sea of bodies into the back of United's goal just before half-time. Mitchelton led 2-1 at the turn.
United's Coach, Michael Cook was disappointed with the performance post game, particularly the missed opportunities in front of goal and some costly defensive errors at key moments.
"Giving away goals with silly errors, missing many incredibly simple chances to score ourselves and not being aggressive enough while defending, all unacceptable at this level."
Defensively the visitors were well organised and goalkeeper Taylor proved inpenetrable in the second half, snuffing out some clear cut one on one opportunities and setting her side on the attack with clever distribution.
The Coast weren't without their chances though with periods of dominance going unconverted in front of goal.
With the game all but done another defensive bungle led to a penalty for the visitors that Katie McDonald converted.
"Back to basics this week at training, which is frustrating after the great progress we have made over the last month." Cook said.
"Hopefully this is just a case of a young team being inconsistent, because we have tougher matches coming up."
The Women head to Heath Park next round to face Easts, a side they got the better of in Rd 2.
National Premier Leagues Women, Rd 14
Sunday, May 20, 2018
Robina Station Reserve
Gold Coast United                     1   (Thompson 17')
Mitchelton                                  3   (Wilson 7', Evans 40', McDonald 91')