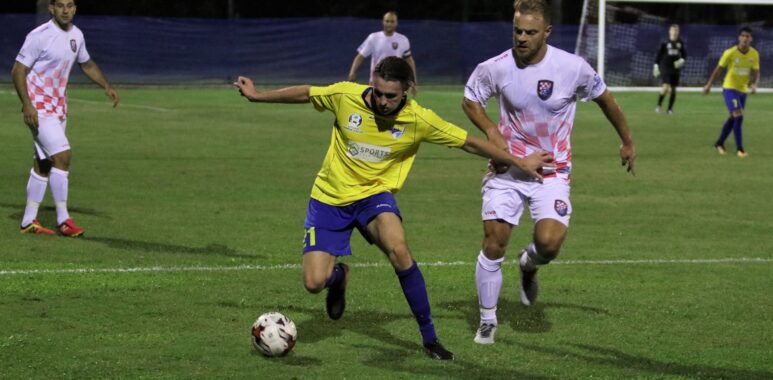 United's Cup Campaign Cut Short
Curtis Stollery stalked by the mercurial Justyn Mckay (Craig Clifford – Sportspics)
United's youthful exuberance was out-gunned by the experienced Knights in last night's FFA Cup 'derby' at the Croatian Club.
Under no illusions heading into the match, United's Coach Sean Lane was left to rue his squad's lack of 'game management' against the big-spending Gold Coast Knights.
"We were in control at 2-1 and then 4 minutes of madness at the end of the first half (cost us).
"If they're good enough to be here then they're good enough to manage games, and they didn't manage the game today."
In front of a bumper crowd at the Croatian Club, the Knights came out strongest and scored early with Jarrod Kyle tapping home a loose ball after Luka Zoric could only parry a Max Brown free kick.
United responded swiftly. James Coutts produced some magic beating 3 defenders and firing low across a diving Josh Langdon in the Knights' goal to square the ledger. Soon after Matt Green thundered home United's second from Brandon Reeves' flick on after a variation on a corner caught the Knight's napping allowing Coutts time to deliver a telling cross into the box.
With United on top the introduction on the half hour of Andy Barisic, for an injured Kyle, changed the momentum. The former Gold Coast United A-League player brought a spark that re-ignited the home side and after losing the inspirational Coutts to injury themselves, United 'switched off' and the Knights capitalised.
In the shadows of half time Max Brown found himself free on the edge of the box to fire a left foot shot past a sprawling Zoric in the United goal. All square.
Much to the delight of the parochial home crowd, the hosts went ahead on the bell after a deft Teddy Watson back heel found a charging Morgan Saunders who squeezed his shot past a sprawling Zoric for the Knights' third.
The second half was a more dour affair with both sides tiring and Knights defensive line rock solid, lead by the irrepressible Irishman, Eoghan Murphy and his young centre-back partner Oskar Dillon.
Knights' Coach Grae Piddick praised his sides defensive efforts post match.
"They came at us in the second half and we really needed to knuckle down and defend.
"It's great to win and progress to the next round.
"We scored a couple of good goals just before half-time, that was crucial."
For Lane his attentions now turn to another away trip this weekend, up the range to face SWQ Thunder in the NPL.
"The great thing about this game is they've got Saturday to turn things around."
United will be looking to break a four game losing streak in all competitions when they head to Toowoomba.
FFA Cup, Rd5
Tuesday, April 24, 2018
Croatian Sports Reserve, Carrara
Gold Coast Knights             3              (Kyle 4', Brown 43', Morgan 45')
Gold Coast United               2              (Coutts 12', Green (not Reeves) 16')