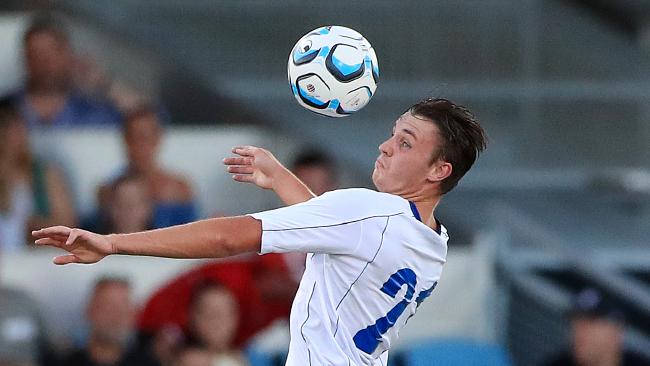 Curtis Stollery in action in 2018 (Justin Brierty)
Curtis Stollery has re-signed for Gold Coast United ahead of the start of the 2019 season. Stollery has a wealth of experience and will be called upon to lead from the front as the 'seasiders' look to build on their inaugural season in National Premier Leagues Queensland competition.
United's coach, Kristian Rees, is fully aware of what attributes Curtis brings to his squad, the two were together at Gold Coast City in season 2017.
"I spent time with Curtis at City and got to watch him play a few times as a member of United's 2018 squad," Rees confirmed.
"Curtis has a great work ethic and shows excellent versatility."
"If he continues to work hard at training he could play a big part in how United fair this season."
Stollery's first club on the Coast was Merrimac and as a young teenager he played at Logan before joining the Coast under-14 rep team.  In 2015 Stollery was a member of the Gold Coast Premier League double-winning Magic United side coached by Colin Phelan.
A stint with Logan Lightning in the Brisbane Premier League followed with a return to the Coast in 2017 where he linked with the Grae Piddick coached Gold Coast City making 11 first team appearances.
A genuine box-to-box midfielder blessed with lots of ­energy, Stollery (22) found himself in some unfamiliar roles in Gold Coast United's 2018 season, acquitting himself well in central defence at times and also doing a job for the team wide or in more attacking roles. Curtis made a further 20 NPL appearances in 2018 scoring two goals.
With a preference to play in midfield, Curtis remains unphased by his growing reputation as go-to player with his ability to play in various positions across the park.
After a solid pre-season personally, and as a squad, Stollery believes that the signs are looking promising for a more consistent year from United in 2019.
According to Stollery, "the squad is shaping up very nicely with a good balance of young and experienced players.''
''I think Kristian and Michael Thwaite bring a very organised, structured approach and a clear style of play.
"That should give us much more consistency this season."
Stollery is one of only five players from United's 2018 squad that heads to Wolter Park this Saturday for the season opener against the Moreton Bay Jets.
That match kicks off at 6.30pm.