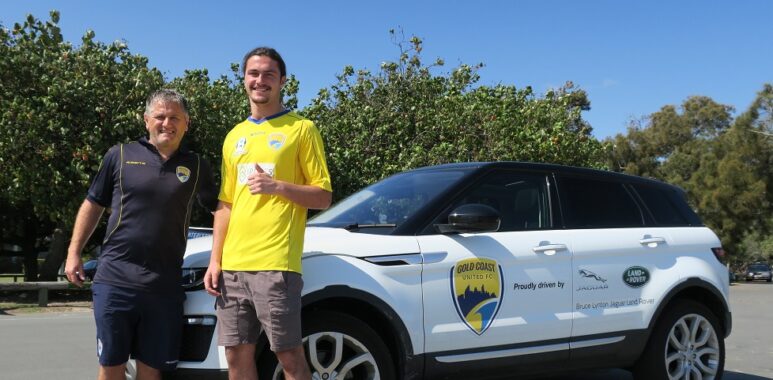 Dillon's Signature Secured
Teenage defender Oskar Dillon, with Technical Director Craig Midgley
Young gun Oskar Dillon has joined Gold Coast United in his quest to take his game to the next level.
The 19 year old defender says the chance to line up beside Michael Thwaite in Kristian Rees' United squad in the 2019 National Premier Leagues Queensland competition was one of the key factors in his decision.
"I think with Kristian and Thwaitey at the club they can help me a lot, both being A-League centrebacks.
"And that's where I want to get to eventually, the A-League, so the decision to join United was a pretty simple one really."
Originally from Coffs Harbour, Dillon moved north with his family in 2013 and slotted straight into the Gold Coast lifestyle, finding a football home with the Palm Beach Sharks and adding to his football education at Palm Beach Currumbin State High's Football Excellence program. After two seasons in the NPL with the Sharks his performances caught the eye of Brisbane Roar Youth coaches and in 2015 Dillon headed to Brisbane to join the Queensland Academy of Sport and play with Roar's U18 NPL squad.
Returning to Palm Beach at the end of the 2016 season brought a debut, as a 17 year old, with Gold Coast City linking with then assistant coach, Kristian Rees. A regular starter in season 2017, Dillon made seventeen senior appearances before following Rees to the Gold Coast Knights in 2018, an integral member of their double-winning squad. Following consistent outstanding performances Dillon established himself as one of the league's best defenders. earning selection in the Gold Coast Premier League's 2018  'All-Stars'.
For United's Coach, Kristian Rees, adding the young defender to his squad is a real boost.
"I'm very excited to have him sign for United. I've been with him since his time at Palm Beach and seen him develop into a player with huge potential."
"His game is still evolving and now he'll have the opportunity to play next to a former Socceroo which will only help him grow further.
"If he works hard off the field on his core work and looks after his body and mentally wants to apply himself, I believe he can go to another level.
"He's exactly the type of young player from the Gold Coast I want at the Club."
Dillon's signing affirms the Club's intention to offer the best local prospects the chance to reach their potential alongside some of the Coast's most experienced and talented proponents of the game in Michael Thwaite and Justyn McKay.
With this trio 'locked-in' the nucleus of a solid platform around which to shape a competitive 2019 squad is in place. Rees' attentions now turn to securing some attacking 'punch' to add to the core of the 2018 GCU squad and his new trio of 'top-shelf' recent signings.