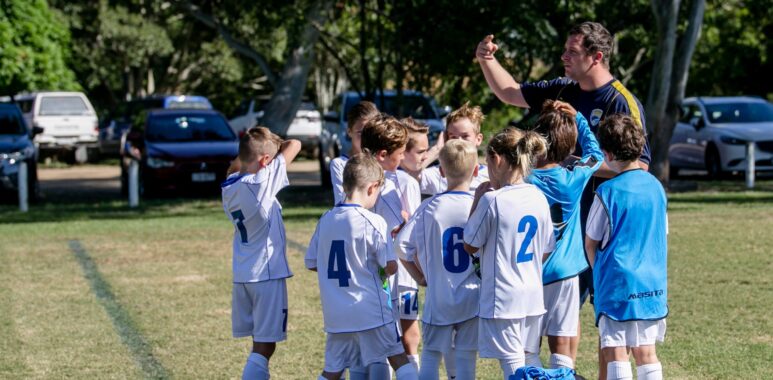 Jamie Dixon to head United Talent Centre
Jamie Dixon joins United to head the NPL Academy Talent Centre  (AGM photography)
Gold Coast United are extremely excited to announce the establishment of a new program focused on 7 & 8 year olds playing Community football. The concept behind the program is to create advanced training groups where players can be mentored by the best coaches, training in the best environment, underpinned by the best holistic support while still playing with their friends at their local club.
The NPL Academy Talent Centre will be headed by GCU's newest coaching recruit, Jamie Dixon.
Technical Director Craig Midgley is ecstatic to have Dixon on board to deliver the program.
"Jamie has extensive experience working with elite players in the Skill Acquisition Phase (SAP) in England and here in Australia.
"He joins us from the Brisbane Roar where he was the U8-12 Co-ordinator working with talented young footballers, introducing new initiatives to assist their development.
"Jamie is currently going through his advanced FFA A license which is more related to senior coaching, however the attributes he has already make him a excellent Skill Aquisition coach.
"I regard Jamie as one of if not the best coaches working with 7-12 year olds in Australia. We are lucky to have him on board !."
Prior to his time at the Roar, Jamie managed the SAP training syllabus at both Olympic & Western Pride where he was also involved on a day to day basis with both Coach & Player leadership.
The Club is delighted to offer Jamie the opportunity to work with the Coast's emerging football talent and with local Clubs to raise the bar in the delivery of programs specifically targeted at the best young players from this age group in the region.
Currently holding an FFA B Licence and a string of other coaching qualifications, Jamie is itching to get started in his new role at GCU.
"I'm very excited to get the opportunity to join Gold Coast United and am looking forward to working with Craig and the other SAP Coaches, and particularly the super talent here on the Coast.
"I'll be working hard from day one to establish links with local Gold Coast clubs to implement a range of programs to grow the game at the grassroots
"My first focus will be to set up the Talent Centre and deliver this program which aims to provide young players an opportunity to enter the FFA's elite player pathway via the SAP system."
Dixon was quick to confirm the key role that local Clubs will also play in the program, benefitting from the GCU Partner Club network already in place.
"Our chosen groups will train once a week with GCU in addition to their current club training, with the opportunity to attend regional carnivals throughout the year.
"It's absolutely vital that all participants continue to play for their Clubs and use our program as an extra night of training."
"United are here to help those local Clubs too, by mentoring Grass Roots coaches and offering them support and guidance to further their football development as well."
The Club is holding three sessions to try out for the program:-
When    Monday 14th  ;Wednesday 16th and Friday the 18th of May
Time      4.15pm – 5pm
Where   Carrara Training Fields, Broadbeach Nerang Road, Carrara
Register your interest on the day.
Follow this link for more information about the program
or contact Jamie Dixon jamied@goldcoastunitedfc.com.au