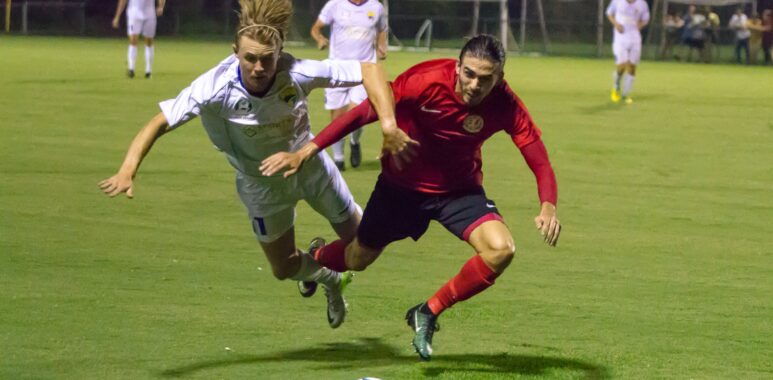 Prasad Dives in at Gold Coast
New signing, Jayden Prasad (r) now diving into his football on the Gold Coast. Here battling GCU's Rees Duncan in Rd3 (Rayby Photography)
Men's Coach Sean Lane is delighted to have secured Jayden Prasad as part of the United squad for the remainder of the 2018 season. The 21 year old attacker arrives on the Coast after starting the 2018 #NPLQLD season with Redlands United.
Jayden (JJ) began his football journey on Brisbane's Bayside before being 'drafted' into the Brisbane Roar system. Lane has watched Prasad's career unfold and likes what he sees.
"He comes with good pedigree and early days, but he looks to be a good fit for the squad.
"Coming out of the Roar system and having watched his progress since then, I know that he's technically very gifted and will give us some creativity going forward.
"He also adds a stack of experience having played at this level before both here in Queensland and in Victoria."
After two seasons in the Roar Youth set-up, which included selection in the Young Socceroos squad in 2016, Jayden travelled to Melbourne to link with Hume City in Victoria's NPL1 clocking up 25 appearances for the Broadmeadows based outfit.
Returning to Queensland in 2018, JJ recently settled on the Gold Coast and the travel to Cleveland to train and play was a factor in his decision to make the mid-season switch to United.
"I've recently moved down to the Gold Coast and the motivation to travel to training was waning.
"Obviously Redlands was my boyhood club & I have nothing but love and respect for them. They were really good to me.
"But I'd heard nothing but good words about Gold Coast and needed something fresh in my football. So after I talked to Laney, in the end it was an easy decision for me."
Prasad has spent time training with the United squad and is impressed by the professionalism and the 'vibe'. Although well aware of the difficulties encountered by the Men in the season to date, JJ is confident that he's made the right decision.
"I don't like to look at statistics, ladders. If we just focus on the week to week, I think we've got a good chance of kicking on and doing well for the season.
"We want to be playing finals and I think we've got a good chance.
"I've had a few sessions with the lads. It was a big shock to be honest. The intensity is unreal and not what I expected. I'm loving every minute of it so far."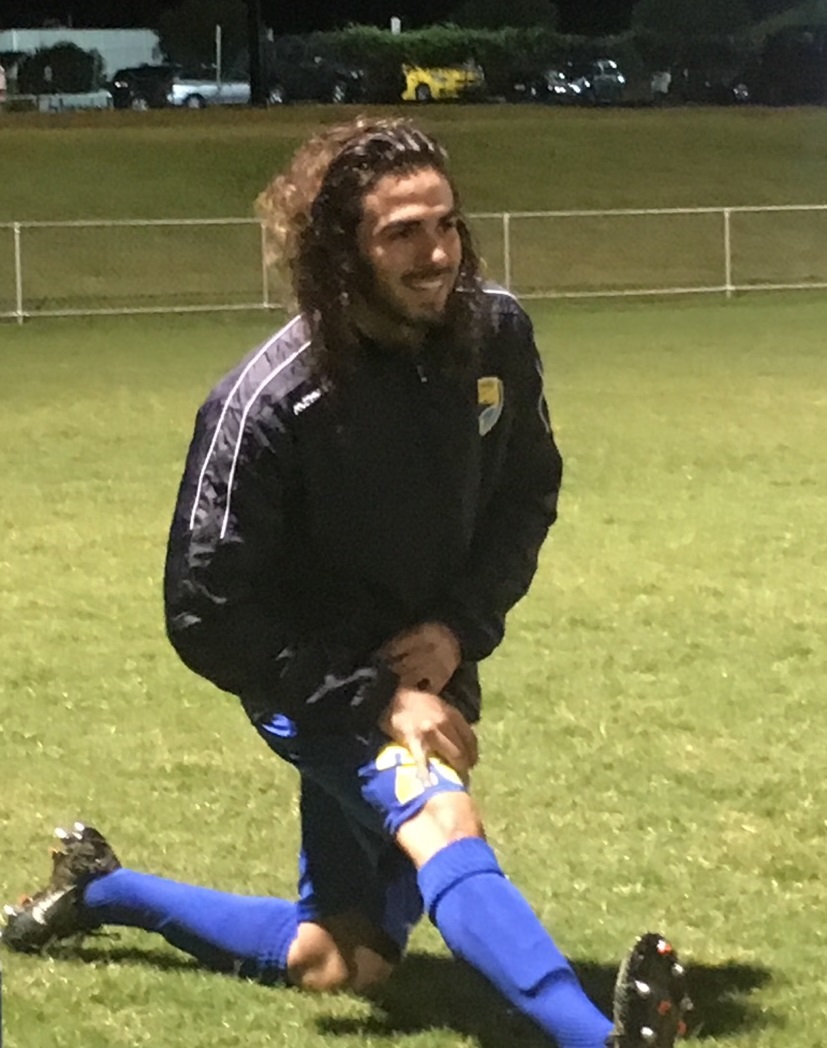 JJ Prasad, enjoying Gold Coast United training
Prasad is expected to make his United debut this Saturday, a home fixture against Sunshine Coast Fire.
The Fire have struggled somewhat in the league but are in the middle of a good FFA cup run. Having accounted for the Mackay based Doon Villa in Rd6, the Fire next face Gold Coast Knights, the winner of that match booking a spot in the national round of 32.
Kick-off at Station Reserve this Saturday is at 6pm.