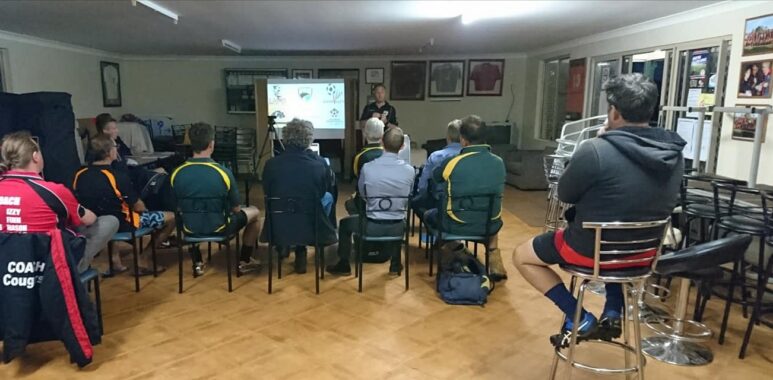 United engage with 'Partner Clubs'
TD Craig Midgley delivering a coaching session at Alstonville FC (photo Troy Taylor)
Gold Coast United is committed to working with Community Clubs to deliver on its promise to engage with the grassroots football community.
With a diverse and exceptionally experienced and qualified coaching staff, the Club is working hard with Community Clubs to improve the overall standards of football in the region and to offer pathways for all players and coaches looking to take their football to the next level.
Last week United held its first 'Partner Club' Coaching Session at Alstonville FC led by Technical Director Craig Midgley and assisted by GCU Youth Men's Coach, Rick Coghlan (A-Licence) & Men's Player & GCU U16's Coach James Coutts (B Licence).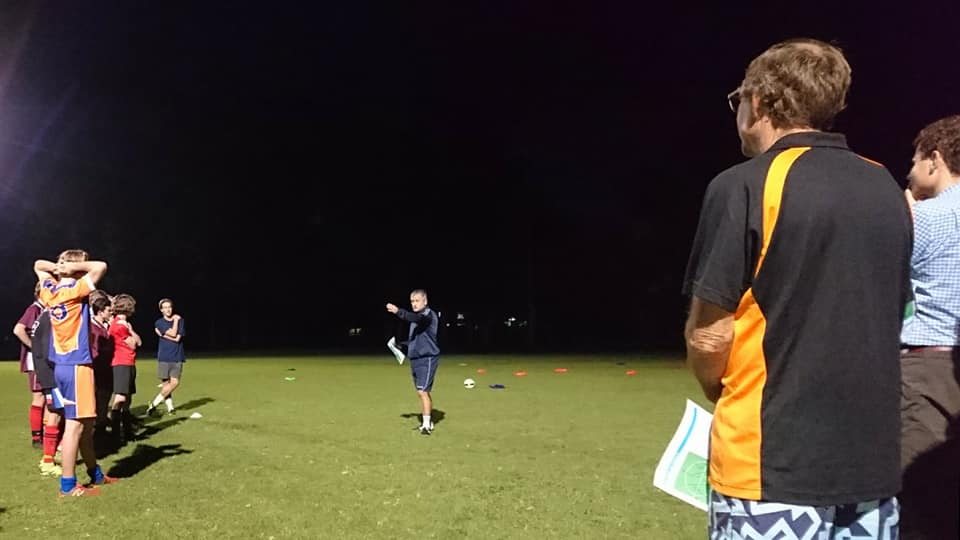 Midgley addressing the 'Villa' U16's, watched by coaches from some Nothern Rivers' 'Partner Clubs'
Midgley was impressed by the enthusiasm of all attendees, all volunteers at their respective Clubs who gave up their time to attend.
"The aim of the Coaching Sessions is to better equip coaches with some tools they can use to improve how they approach their coaching and give them the confidence to use those tools to better deliver their own sessions back at their Clubs.
"The first session had a strong focus on age specific player development and coaching behaviours within different age ranges."
The session also involved a practical component with the 'Villa' U16's joining the session.
For Troy Taylor, a lynch-pin of Alstonville FC's push to offer more to their Club's Coaches and Players, the night was a great exercise of collaboration which saw coaches and officials from other Northern Rivers Club's in attendance.
Taylor is excited by the opportunity to work further with Gold Coast United and to foster an enduring partnership for the benefit of the whole of football in the region.
For Midgley the opportunity to work with local Community Coaches is something he relishes, being a strong advocate of growing the game from the base up.
"The more we can assist Community Club coaches with improved knowledge and understanding of some key football coaching principles, the better it is for them and ultimately for their players.
"We want everyone involved in football to have a better experience, coaches, players, parents and supporters.
"The Club sees itself playing a vital role in developing and growing football in the entire region, at all levels, from the grassroots right through to the elite end. These sessions are a key part to that role."
United's 'Partner Club' Coaching Sessions continue this week with Robina City Soccer Club the hosts on Wednesday night.
If your Club is interested in getting a better understanding of the Gold Coast United 'Partner Club' program, contact Rick Coghlan (Football Operations Manager) for more information – rickc@goldcoastunitedfc.com.au