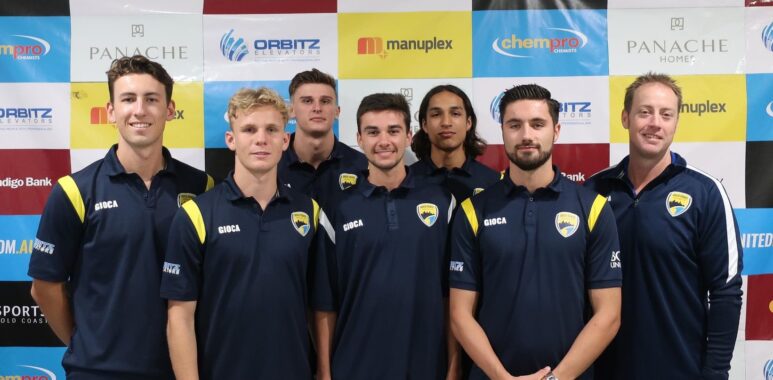 Piddick shows faith in Youth
No shortage of youth in the 2021 Gold Coast United Men's squad with the gaffer showing faith in a bevvy of youngsters who show-cased their wares in season 2020.
Men's Coach Grae Piddick had no hesitation in offering senior contracts to "a great bunch of talented young players about to burst on the scene."
Among those receiving their first senior contracts are:-
Harrison Lister – with injuries to more experienced defenders the centre-back made 11 starting appearances in 2020 underlining his potential with some solid performances against the cream of the NPL attacking crop (senior debut 7/7/2019 v Olympic at Coplicks)
Tim Lahiff – the U20's Coach's Player of the Year made two appearances from 17 senior squad selections in season 2020. A fantastic support for Aidan Munford between the sticks, Lahiff looks set to continue his progress in Piddick's 2021 squad proper (senior debut 4/5/2019 v Power at Coplicks)
Josh Dearn – a talented attacker with the ability to unlock any defence, Dearny is well positioned to take his game to the next level working alongside experienced players of the ilk of uber-experienced attackers Shane Smeltz and Sam Smith (senior debut 2/7/2019 v Knights at Coplicks)
Josh Mcluckie – the box to box midfielder made 6 appearances in 2020 and featured in 18 game day squads (senior debut 12/9/2020 v Olympic at Coplicks)
Zahi Addis – the 2020 Men's Rising Star was a find at left back before injury cut short his season. Blessed with plenty of speed and a good read of the game, Addis made his senior debut away against the Roar on 26/8/2020.
Tom Fagence – found his place in the Men's squad after returning from the US late on in season 2020 making seven starting appearances (senior debut 10/10/2020 away v Power)
Congratulations lads, looking forward to watching you kick on in 2021.