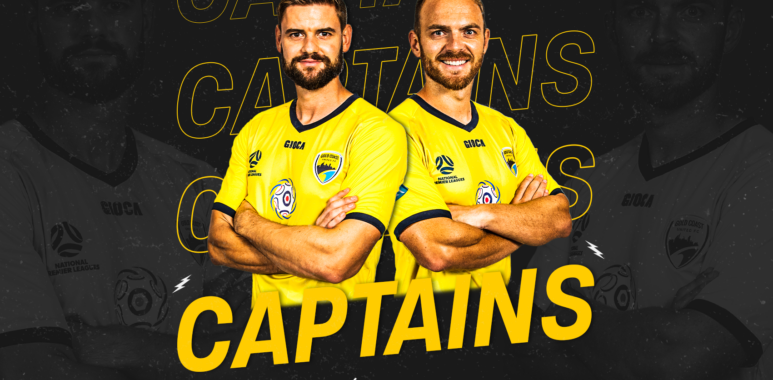 Sam Smith & Justyn Mckay, 2021 co-captains
Gold Coast United head into the 2021 Football Queensland National Premiers Leagues season having added depth, experience and leadership to the squad in the off-season.
The appointment of Grae Piddick as coach, a man with extensive experience and success in the competition, also bodes well for an improved showing in season 2021, with Piddick renowned for his ability to mould competitive sides.
Speaking recently to the Brisbane Football Review, Piddick admitted that while he was quite pleased with his side's pre-season performances, he knows this counts for little when the competition proper gets underway for the Men tomorrow.
He is however buoyed by an off-season recruiting focus that added experience and leadership in key positions across the park.
"I've been quite impressed with how we've trained and performed in preseason thus far," Piddick confirmed.
"We've definitely got a good group of core youngsters coming through. I'm expecting a lot of them to have a good season."
"We also have a very good mix of players of different ages."
"Last season there was a lot of younger players and experienced players in there too, but not so many players in the mid 20's range. So when there were injuries to some of the more experienced players the squad lacked the NPL experience needed to be competitive week in, week out."
A key focus of off-season recruitment brought several players that fit this bill to the club including Paul O'Brien, Jarrod Kyle and Jakob Williams. These additions not only add depth but also leadership, something that Piddick admits there is no shortage of in his United squad.
"I'm lucky to have quite a few players with strong leadership skills in the squad. Essentially we're looking for everyone to be leaders on the park in their own way."
From that pack of leaders, Piddick has settled on Justyn Mckay and Sam Smith as co-captains for season 2021.
"Justyn and Sam have shown from the outset that they are ready to continue the strong leadership tradition of the club."
"I am really looking forward to seeing them wearing the armband with great pride and purpose this year."
He won't have long to wait with the Men looking to kick start their season with a strong performance away against Olympic at Goodwin Park tomorrow night at 6pm.
Story – Mitch Boessen
Photos – Paul Smith
Graphic – Atter Studios