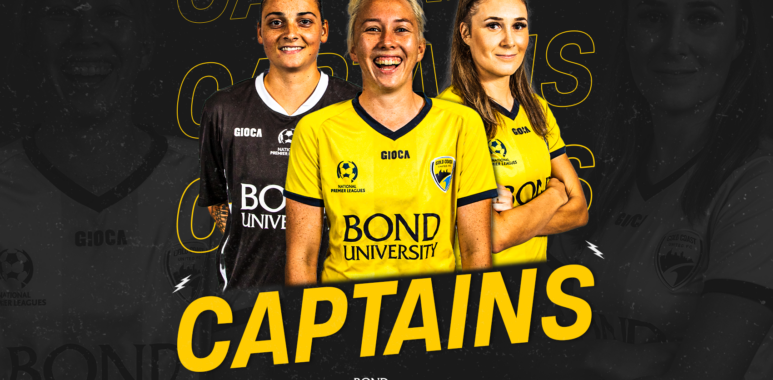 Cassie Zaffina, Dee Thompson and Ellie Weston, the Women's 2021 Leadership Group
Gold Coast United get their 2021 National Premier Leagues Women's season underway tomorrow and coach Alex Bundalo believes his squad is well placed to once again challenge the 'heavy hitters'.
According to Bundalo, "we will be very competitive as always and obviously looking to repeat last year's success."
With several starting players from the 2020 premiership side having departed, there's a crop of talented youngsters who look set to make their mark on the 2021 competition.
Among the departures was dependable defender Joy Forsyth, who retired from playing but continues her association with the club in a coaching capacity.
Attacker Dani Wise will strap on the boots in the Victorian competition in 2021, joining her partner Justin Micallef at Heidleberg United. Kat Goff has also returned to Victoria linking with South Melbourne and diminutive play maker, Rie Kitano has been lured to Brisbane by Souths United.
Bundalo is philosophical about those departures, an ever constant dynamic of football, he knows that "players come, players go".
He thanked those Ladies for their fantastic service to the club noting that their departure opens the door for others to grab their chance to shine.
Already working closely with new U23's coach Sarah Evans, Bundalo is impressed by a string of teenagers and several new experienced players pressing their claim to play a key part in the Women's campaign.
"We've had a good pre-season and some good early results. The squad is looking good."
"We've recruited some mature, experienced players and there's some very, very talented teenagers coming through eager to take their chance."
"I'm really excited about four very young U23 players in particular who'll be stepping into the senior level for the first time and we're looking forward to watching their development."
"Having said that we'll need all players to stand tall especially with the demands of the new Super Cup competition adding more games to the season."
With that in mind Bundalo has turned to the uber-experienced trio of goal keeper Cassie Zaffina, attacker Dee Thompson and defender Ellie Weston to be the guiding influences for the younger players in United's season. The trio not only form a key part of the team's spine but will form the squad's leadership group on and off the park.
Another factor that Bundalo believes will impact the approach needed to succeed in season 2021 is the entry of four new clubs into the #NPLWQLD competition  – Brisbane City, Olympic, Peninsula Power and Virginia United. 
Those additions have brought a change in structure to the competition, the 17 clubs will play each other only once before 'splitting' into a top 8 (which will include the QAS) and a bottom 9, a proposed forerunner to a QPLW competition in 2022.
"The league will be really interesting with the four new teams."
"There'll be no easy games, everyone will be fighting from the outset to be part of that top 8 to secure top tier football in 2022."


A key focus for Gold Coast United heading into this Sunday's trip to Heath Park has been the importance of getting off to a winning start against an Eastern Suburbs side known for upsetting top four aspirants.
That match kicks off at 6pm and will be streamed live on NPL.tv.
Photos – Paul Smith
Graphic – Atter Studios