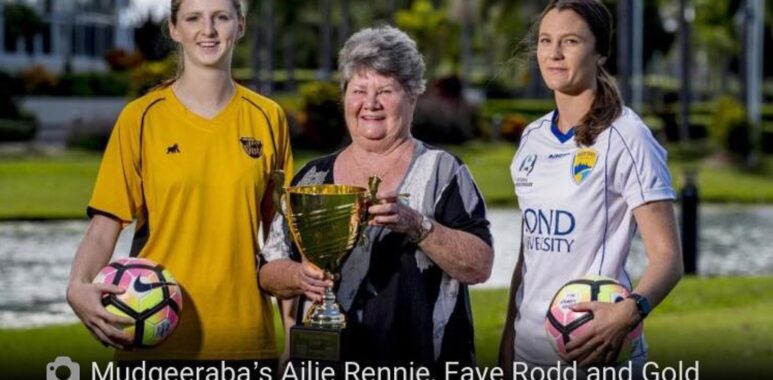 Fitting finale to Coast Female Football Week
This year's Female Football Week on the Gold Coast draws to an exciting end when local NPL newcomers, Gold Coast United and Mudgeeraba battle it out at Robina this afternoon for the inaugural Faye Rodd Cup.
Faye Rodd is a long serving ambassador for women's football on the Gold Coast. A life member of Football Gold Coast, Faye has also served in various other capacities including a one-time Vice-Chair of Football Queensland's Womens standing committee and President of Palm Beach Soccer Club, the holder of the Coast's previous sole Women's NPL licence.
At the launch of the Cup yesterday, Faye commented that she was, "extremely proud and very humble to have the honour of being part of this event, and of being part of Women's soccer in general."
Both clubs were well represented at the Launch ahead of what should be a great game at Robina Station Reserve today.
Mudgeeraba Coach, David Thompson, who previously plied his trade at Palm Beach in the NPL was present, along with the inaugural Mudgeeraba captain, Ailie Rennie. After what has been a tough start in the NPL for the Club against some of the competition's 'big guns', Mudgeeraba found their feet last outing against Logan Lightning, recording their first win.
"It's been a difficult first few weeks for us," Rennie confirmed.
"But we got back to training each week and focused on what Dave wanted us to do and last week we got the result we deserved."
The Scottish born defender played at Musgrave at the tail end of 2017 after arriving from England on a study exchange, having previously been a part of and captained a highly successful University of Leeds team.
With Thompson having previously coached a lot of the GCU girls, Rennie believes this may be a slight advantage but admits that the Mudgee girls remain focused more on themselves.
"We're going in to the game with the same mentality and have prepared the same way as we have so far. We haven't changed anything too much."
United Coach, Michael Cook, couldn't make it to the Cup launch but confirmed that he's excited for the day and believes his squad is well prepared and rested after a convincing 8-1 win last start over SWQ Thunder.
GCU Captain Neesa Doyle shares this view but confirmed that this week's weather and a few niggles to key players had disrupted preparations a little. Doyle was however confident that the squad is ready and are not taking the opposition lightly.
"Yeh we're pretty lucky having good depth in our ranks.
"It's great to see the young girls in the squad get rewarded with debuts and plenty of minutes.
They put the hard yards in at training, are all super keen and all really talented."
Personally Doyle can't wait to take on the near neighbours, she has many friends among the 'Roos team and like her opposite number, believes the game will be played hard but in a great spirit.
"I'm actually really excited to play Mudgeeraba. They're a quality side.
"Whenever I can, I get along to watch their home games. I've seen some real improvement week to week."
A fitting finale to Female Football Week awaits, with kick-off at Robina Station Reserve at 5pm.