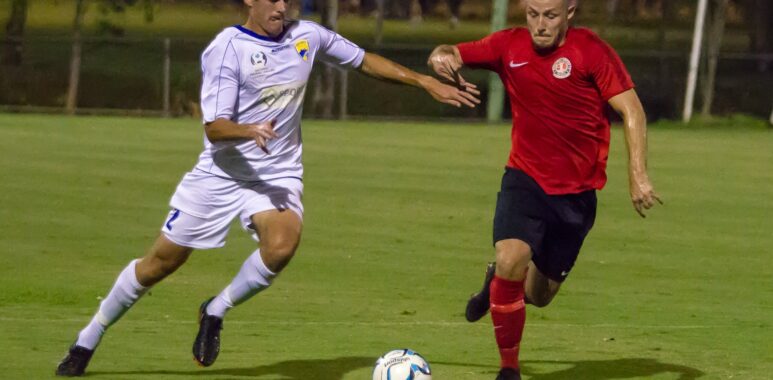 League leaders loom large
Photo of Tyler Wagstaffe in action v Redlands @Raybyphotography
For Gold Coast United defender Tyler Wagstaffe, today's match-up with the NPL League leaders is a 'home-coming' of sorts.
The 20 year old right back lives on the Coast but spent a lot of time on the M1 in 2017 travelling to Yeronga to train & play for Brisbane Olympic, something he has fond memories of.
"Olympic is a great Club. Fantastic supporters, great family atmosphere. And the best food!
"I had a good year there. We probably should have got more out of it, we started strong but injuries to key players hurt us as the season progressed. We were well in the mix though."
There won't be a lot of familiar faces for Tyler to greet in the Olympic dressing room when they visit Robina today.
In contrast to the Coast which features one of the youngest NPL squads, new Olympic coach Ben Cahn has opted instead to recruit experience from outside of the Club, with little room as yet in his starting squads for any of their 2017 League winning Youth side.
Wagstaffe admits that the 2018 Olympic side is a very different one from the team he played for last year, but he knows enough about those retained and those brought in, to be well prepared.
"I'm expecting Olympic to be a tough contest. They aren't top of the table for no reason.
"But we know if we play to the potential we have shown, particularly last week, then we'll again be competitive with a chance to upset them."
Gold Coast were missing Coach Sean Lane last start who returns this week.
"The players were bouyant after their second half performance against Strikers last week and want to continue where they left off."
The Coast also welcome centre-back Dean Wernerson to the squad for a home and season debut. No tougher encounter for the former Gold Coast Knight to test his mettle.
"Deano will come into the side and his presence, ability and composure will  be a big boost for the squad," Lane added.
Wagstaffe and Wernerson know each other well and understand how important it will be to communicate clearly and work as a cohesive unit at the back. While wary of the visitor's attack across the park, Wagstaffe pointed to the aerial ability of Kieran Waters as one to watch.
"Twitter (Kieran Waters) can really play, he's strong on the ball and mobile for a big unit. He's very effective at set pieces, uses his body well, so we have a big job on our hands to nullify him."
The Wagstaffe & Wernerson clash with Waters is just one of many mouth-watering match-ups in what is expected to be a high tempo, quality affair at the Reserve tonight. Kick-off is at 7pm.
Earlier the Gold Coast Women take on local NPL 'rivals' Mudgeeraba in the inaugural Faye Rodd Cup. That match set down for a 5pm start.