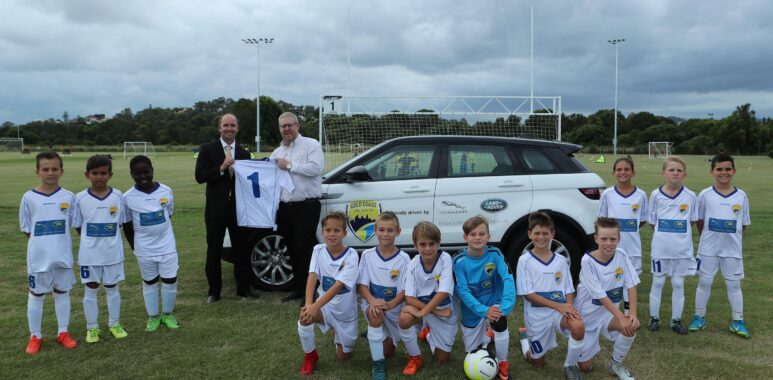 Bruce Lynton Automotive Group unite to support young footballers
Photo @sportspics –  GCU's Troy Bingham presenting Beric Lynton with the No1 SAP Supporters jersey flanked by the U10 Boy's squad
Gold Coast United aims to develop the potential of every young player so they can excel in the modern professional game.
A cornerstone of that aim is to engage openly with the local business community and CEO Troy Bingham has been working hard from the outset to achieve this.
"People need to feel that they can make a difference by collaborating and sponsoring.
"Local business owners want to see the Coast flourish and our young people achieve great things.
"By being upfront about the Club's aspirations and setting a clear outline of what we want to achieve, that reassures people about our intentions as a not for profit organisation."
The Bruce Lynton Automotive Group is one such local business who have united with the Club to support its endeavours. The Group, headed by Beric Lynton, has always been an active member of the Gold Coast and Northern Rivers communities, supporting and sponsoring many local sports clubs over the years.
When the opportunity to become the Club's SAP sponsor arose, there was little hesitation to get involved.
The Skill Acquisition Program (SAP) is a key component of Football Federation Australia's National Curriculum designed to perfect and accelerate the skill development of identified players between the critical ages of 9 to 13.
According to Beric Lynton, "we see this partnership as a great way to engage with our community but it's also so important to encourage our young achievers to believe in themselves, keep active, fit and healthy and to have fun while doing it.
"Supporting clubs such as Gold Coast United helps young kids on their way to reaching their utmost potential, at the same time growing with their peers to develop a strong team spirit".
And supporting young players fits well with Lynton's business's ethos of providing opportunities for individuals to grow personally while at the same time encouraging positive team work.
"Our business strongly believes that becoming a team player impacts positively on your everyday life. Supporting these young people fosters an attitude that sets them up for a future where anything is possible.  We are delighted to be a part of that journey!"
CEO Bingham is heartened by the partnership with such a 'like-minded' business.
"We work closely with our sponsors and business supporters to ensure that our partnerships are mutually beneficial and that we align with businesses who share our philosophy.
"There was an immediate 'synching' with the Lynton Group. Beric is also a father who knows how important sport can be in terms of developing well-balanced, healthy people.
"He also sees the potential of the Club, the benefits it can bring to the Coast as well, and is prepared to support our goals and ambitions, and that is fantastic."
If your business is also interested in supporting the Club contact the CEO to discuss.