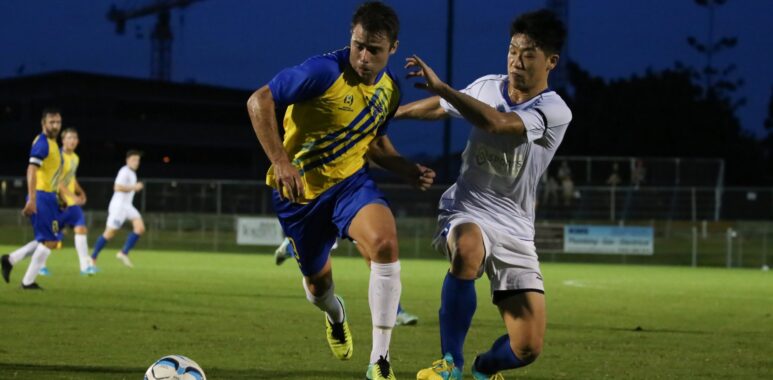 Strong second half not enough
Photo from Strikers Facebook – Rhys Meredith & Uryu Nagata contesting
A plucky Gold Coast fell short of reeling in a fast starting Brisbane Strikers in last night's Rd5 NPLQLD match at Perry Park.
Down 3 nil at half time, Gold Coast dominated the second stanza. A headed goal to Captain, Archie Tomic on 59 minutes followed by a belter from Lochie Reus on debut 12 minutes later gave the visitors a sniff of getting something out of the match.  However a late goal from Strikers on the counter, with the Coast pressing numbers forward to try to equalise, put paid that.
Technical Director Craig Midgley deputised for Sean Lane in the dugout. Laney was sadly absent following the passing of his father in the UK during the week.
Inspite of the result, Midgley was happy with the second half performance.
"We gifted them three goals in the first half. You can't do that at this level and expect to get something out of the game.
"But to their credit the lads worked hard. We changed a few things up at half time which helped, and they went out and dominated the second half really."
A philosophical Midgely knows that there's no points for winning the second half but saw enough to believe that wins are just around the corner.
"They're a young inexperienced squad still learning about each other and how to play together to get results.
"They know that defensively they need to be better to give themselves a chance. It's about working hard on that again during the week to make sure that we get out of the blocks from the whistle."
Things won't be easy for Gold Coast next Saturday at Station Reserve, they welcome league front-runners Olympic FC in the Rd 6 encounter.
National Premier Leagues Queensland – Round Five
Saturday, March 3, 2018
Perry Park
Strikers                              4 (Lee 7, Meredith 31, 35, Mclean 84)
Gold Coast United            2 (Tomic 54', Reus 62)