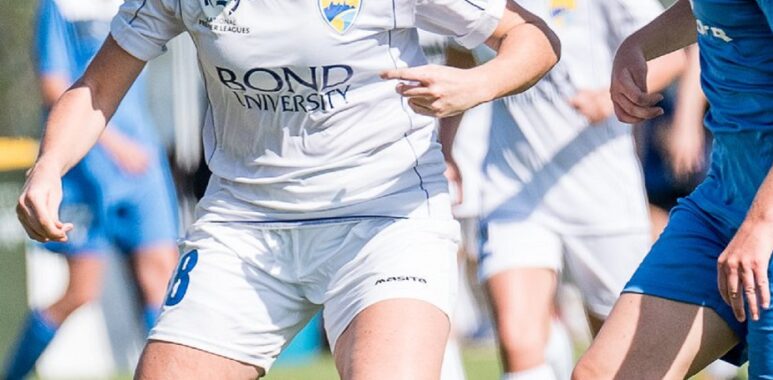 Photo – David Lobwein @DSLPhotography
In hot & humid conditions in Gatton yesterday, the Gold Coast United Women put the Thunder to the sword, running out 8-1 winners in a lop-sided contest.
Power forward, Meg McElligott, was the chief destroyer bagging a double hat-trick in a destructive 20 minute burst.
Attackers Mackenzie Akins and Dee Thompson chimed in with goals, Thompson netting her first for 2018 bringing her NPL career goal tally to 80, her 9th goal against Thunder in 7 games.
The opportunities for the forwards came from a solid overall team performance.
Coach Michael Cook heaped praised on his entire squad after the game
"It was tough for both teams out there, very difficult conditions.
"But our girls were fantastic, they stuck to the game plan and were all really solid."
While finding it hard not to heap praise on McElligott, Cook was keen to complement those behind for providing quick ball in transition to set the attackers free.
"Meg was outstanding up front, she'll always cause problems for the opposition if we get her the ball in the right places.
"And we did that so well today. We defended strong and transitioned superbly with some slick one-touch ball movement and some pin-point passes into space & the channels."
Cook was also full of praise for his young bench who all made an impact when they came on.
"All of our teenagers were great today.
"They are starting to find confidence with more minutes, and realising that they are just as important a cog in the overall wheel as the experienced players are."
The Coast will have another opportunity to improve cohesion when they take on local rivals Mudgeeraba next Saturday, a Rd6 derby at Station Reserve with kick-off at 5pm.
Women's National Premier League Queensland – Round Five
Saturday, March 3, 2018
Gatton Football Club                                                                                
SWQ                           1   (Franke 33')
Gold Coast Utd           8   (McElligott 25', 27', 30', 34', 38', 45' ; Akins 65' ; Thompson 80')