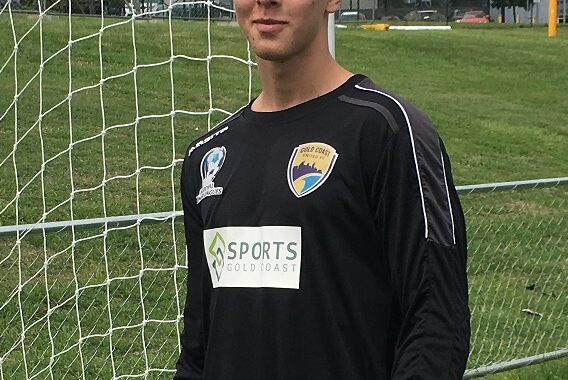 Men's Coach, Sean Lane, has once again turned to the Gold Coast and signed 19 year old keeper, Luka Zoric, to bolster his squad after the departure of Zac Speedy from the Club, whose work & travel obligations limited his ability to commit to the rigorous training and playing demands of the NPL.
The Serbian born Zoric arrived on the Gold Coast in 2014 and has been plying his trade in the Gold Coast Premier Leagues with Broadbeach United. Before moving to Australia with his family, Luka played in his home town, Novi Sad, for FC Borac, FC Proleter.
Having made the transition to Australia and settling completely into the Gold Coast lifestyle, the young shot-stopper is looking to make his mark at the next level of football and is grateful for the opportunity to play at the NPL level.
"Being so young I'm not sure how I'm going to deal with the pressure, I know that I'll need to step up.
"I'd say that my biggest strength is my agility and during games I feel very confident with 1v1 situations."
Zoric is pencilled in to make his NPL debut against Strikers tomorrow night and with attacking players of the calibre of Rhys Meredith and Trent Clulow returning from injury for the Brisbane outfit, his agility is likely to be fully tested. That said the young gloveman is up for the challenge.
"I'm looking forward to see how I go against higher level players. Strikers look sharp and quick."
Luka will be working hard to get the Coast's first clean sheet for the season but the score line is not what he's focused on.
"As long as the team and me play well and give 100%, that's what matters.
"But having said that I also don't losing!"
Gold Coast United travel to Perry Park to play Brisbane Strikers in the #NPLQLD Rd5 this Saturday with kick-off at 6pm.
Earlier the GCU Women are in Gatton squaring off against South West Queensland at 3pm, this game being livestreamed by Football Queensland.