Ellie Fryer & Dee Thompson have committed to the Club for 2019
Experienced duo Eloise Fryer & Deeanna Thompson have committed to Gold Coast United, both eager to make an impact in 2019 and play large roles in United's push towards a finals berth in next year's Women's National Premier Leagues competition.
Injury meant Fryer played little part 'on-field' in 2018 but off the field the defender stepped up supporting her team-mates and boosting morale when needed. Thompson's campaign was also hindered by leg complaints restricting her to just 11 appearances that yielded 6 goals. The lack of competitive appearances is extra motivation for both players to step things up in 2019.
According to Thompson, "Ellie and I are super keen to work on the team's great progress from last season.
"We both want to be a part of creating an amazing club culture and are super keen to get trials and pre-season underway."
A Mullumbimby junior, Dee's pre-season has already begun. After two weeks of intense trials with Canberra United for a spot in their W-League squad, the dynamic attacker is 'in the best physical shape ever' for this time of the year. The taste of a professional environment, the level of training and facilities on offer are driving her to push her performances to another level.
Thompson and Fryer have a long association and shared football journey that stretches back to their days playing in the Northern Rivers. A Lismore junior, Ellie's focusing on regaining her strength and power, two of her key attributes.
Having signed both players in 2018 from Souths United, Coach Michael Cook is relishing the prospect of a fit Thompson and Fryer leading the way next season.
"I'm over the moon to announce that Dee and Ellie have resigned for our NPLW 2019 season." Cook said.
"These two wonderful players, and even better people, are among the best in the league.
"Their agreeing to play again with United shows they are buying into the great plans and future that the club has."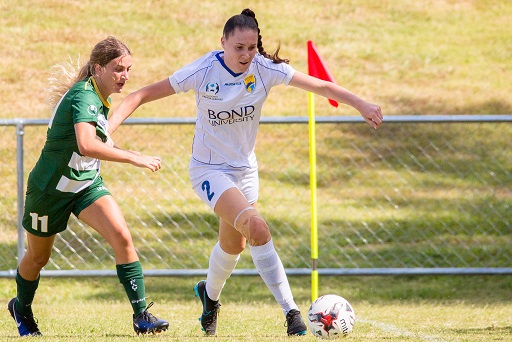 Ellie Fryer in action in 2018 (Chris Simpson)
"Ellie is like a brand new, first class signing for us. She didn't play a lot this season due to injury but she's working harder than I've ever seen any other player work on her rehab, determined to be stronger than ever.
"I have no doubt she will be in super shape come the start of the season."
"Ellie's a natural leader and with her at the heart of our defence she'll makes us a very difficult team to play against.
"She has it all, a wonderful tackler, great in the air, technically gifted and adventurous enough to get forward and contribute to our goal scoring when the opportunity presents itself."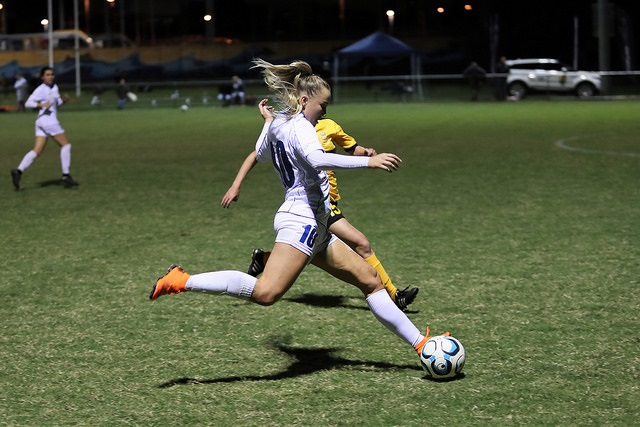 Dee Thompson, about to unleash during season 2018 (Craig Clifford/ Sportspics)
According to Cook, "simply put, Dee is one of the best attacking weapons in the league.
"Now that she's back to full fitness she'll be a key player for us. A wonderful person off the field as well, her spirit and attitude is invaluable in the change room."
"She's a very smart, unselfish player. Like all attackers she loves to score but she also knows when to present opportunities to players around her.
"Her strength, pace and finishing will give us the ability to create chances and score goals against any opponent."
With Fryer and Thompson committed, Cook's quest to assemble a strong spine of experienced, quality players is underway. And with the talent and ability coming through United's younger female ranks, and a real 'buzz' around the club with 2019 trials about to begin, the momentum is building for United's female football program to reach new heights.
Check all the trial details at this link.