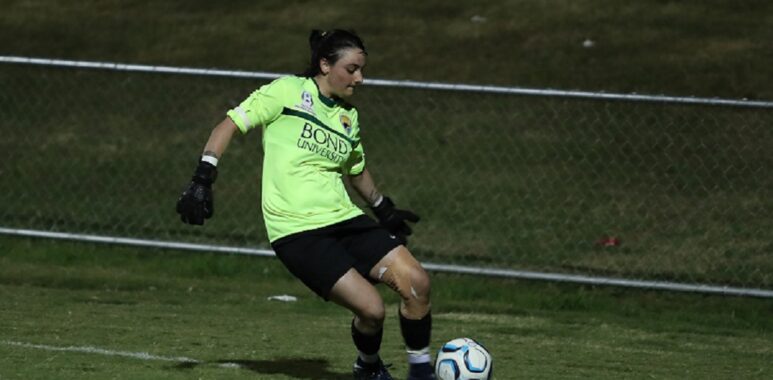 Zaffina on Cusp of W-League
Composed, stylish & commanding, Cassie Zaffina, on the verge of W-League (Craig Clifford / Sportspics)
Cassie Zaffina has bedded down the third choice goal-keeping spot with Westfield W-League squad, Canberra United, a sweet reward for the hard working goalkeeper.
It's been a 'roller coaster' journey for Zaffina who joined Gold Coast United mid-season looking to re-invigorate her career and that move has paid off in spades.
"I felt like I needed a change in my life and everyone on the Coast was really welcoming," Zaffina confirmed.
The former attacker fell into goalkeeping after a 'near career ending injury' and has forged an interesting footballing path since then.
"It wasn't until I got the news I had a medical condition that would mean I would have to give up the game all together. I then found a way to still play and that was as goalie."
First donning the gloves for Alamein FC, Zaffina was scouted by South Melbourne and after 18 months in the Victorian NPLW she ventured to the Coast looking for a new challenge.
The 'live-wire' shot stopper produced some outstanding displays between the sticks for United in her 12 appearances in the 2018 Women's Premier Leagues Queensland competition. Those performances were enough to earn a trial in Canberra, some achievement from a player who converted to goalkeeping only two years ago.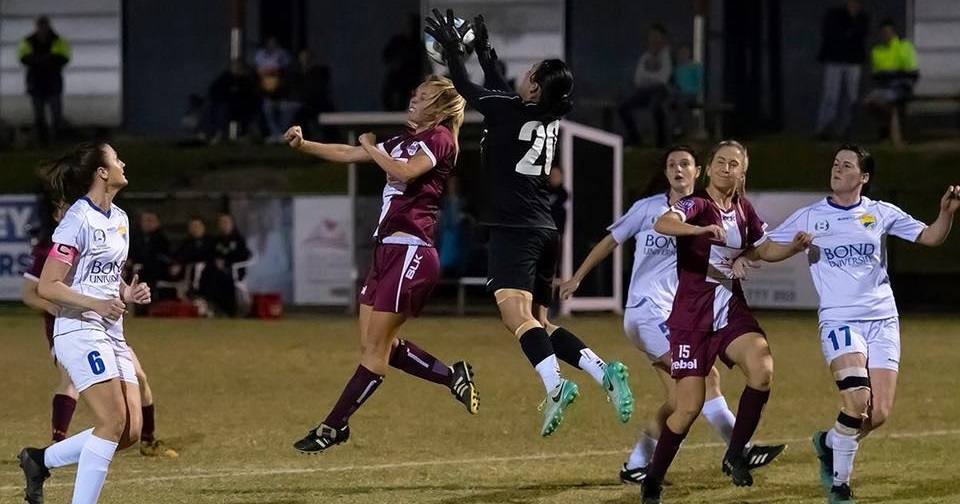 Zaffina, strong in the air against Logan Lightning FC (David Wilson Photography)
"I'll be forever grateful for the opportunity to play for Gold Coast United and be offered the chance to trial with Canberra."
"The road towards the W-League has been a tough one for me.
"I've worked incredibly hard and had plenty of setbacks along the way."
"At times I've doubted myself, but through the support of my friends and family, especially my mum, she's a massive reason why I'm where I'm at today."
"There's lots of people I'm thinking about who've helped and guided me over the years, all of my coaches and all of my football friends and supporters in Vicco and the new crew on the Gold Coast.
"Thanks for believing in me."
With the W-League season a little over a fortnight away, Zaffina has adjusted to life quickly in the capital where she'll continue to train with the Canberra squad, on standby should either of the first two squad keepers fall to injury or poor form.
From all of the players, coaches and staff at Gold Coast United congratulations Cassie Zaffina, a fantastic achievement.
We're proud to have played a small part and look forward to watching your journey continue further.