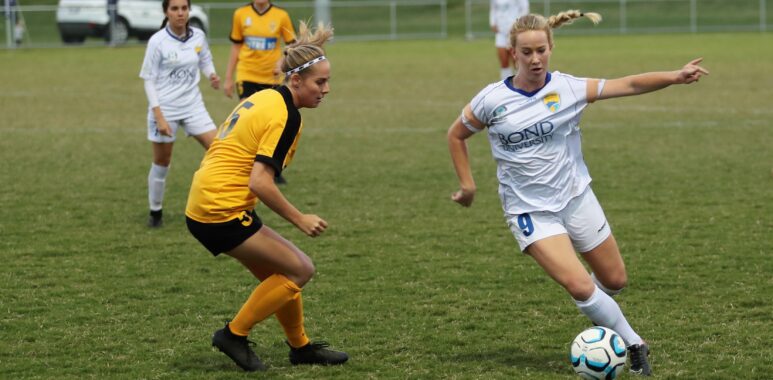 MacKenzie Akins in action in 2018 (Craig Clifford / Sportspics)
Talented attacker MacKenzie Akins has committed to the Club for 2019.
After a stellar first season in the National Premier Leagues Queensland Women's competition, Akins was high on Michael Cook's hit list as he looks to assemble a squad with the capability of bigger things.
According to Cook, "Mackenzie was a priority of mine to keep at the club. So I am ecstatic to announce that Mackenzie has committed to continue playing for the club for the upcoming 2019 season.
"On the verge of extending her visa, she can't wait to start pre-season to prepare for another exciting season."
The Californian featured in all 26 rounds in 2018 bagging a very creditable 25 goals that secured her the Club's Female Golden Boot award.
Akins scooped the pool in 2018 also receiving the Women's Player of the Year award to cap a fine return to the game after a serious knee injury cut short her stint in Sweden prior to heading 'down under' to get her career back on track.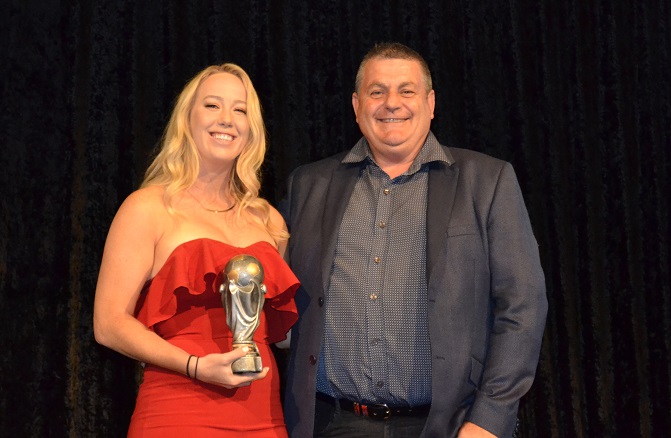 Akins with Glenn Corcoran from Bond University, major sponsor of United's female football program
For Akins the opportunity to extend her stay with United is something she's keen for.
"I'm very excited to extend my stay at Gold Coast United for the 2019 WNPL season.
"United is a club that is committed to growing the women's side of the game and that's very important to me.
"They've also shown me tremendous support and I'm very fortunate to play with a talented group of women that will push for contention next year."
Cook knows the qualities that Akins brings both on the pitch and in the dressing room and looks forward to what she can produce with a full pre-season under her belt. Akins arrived in Australia in January and on the back of a standout 2018 campaign, Cook expects Akins to take her game to another level in 2019.
"MacKenzie's a wonderful player, and a strong personality.
"She was involved in all of the key, positive moments the team enjoyed in 2018, especially during our great run in the second half of the season.
"Once again she will be invaluable with our plans to push for a much higher finish in 2019.
"With both her and Deeanna Thompson now committed, opposition defences will need to be on their guard when GCU come to town"
With the Women's 2019 trials continuing, Cook has plans for some further exciting signing announcements in the coming weeks.