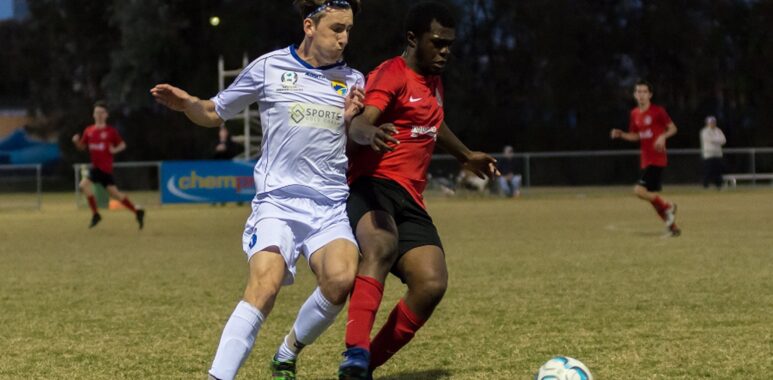 Gold Coast United's Harrison Lister in action against Redlands in season 2018 (Andrew Hudson Sports Photography)
Harrison Lister enjoyed a stand out 2018 season captaining Gold Coast United's under 20's side and showing enough quality to earn inclusion on the Men's team sheet on several occasions. After walking away with the top gong for Youth Men in season 2018, Lister knows what's required to go to the next level and push for a start in Kristian Rees' squad in the Queensland National Premier Leagues competition in 2019.
For any young defender the opportunity to train and play alongside someone of the caliber of Michael Thwaite is an exciting prospect, and with Rees at the helm for United next season, there's even more reason to be excited about the quality of the football education just around the corner.
"I feel that the 2018 season was an awesome experience for the club and it was a major stepping stone for 2019.
"It taught us what needs to be done in the coming years in order to be a successful side in the future," Lister confirmed.
"The U20's and U18's both had solid seasons however a few early losses didn't help us out. But that's expected when the bigger part of twenty players have never played together before."
"I'm keen for the 2019 season to come. I think a lot of the younger lads have learnt what it takes to be successful in the Queensland NPL and if we all dig deep in the pre-season, there is no reason why we can't come out on top. We have the talent and the drive, all we need now are the results."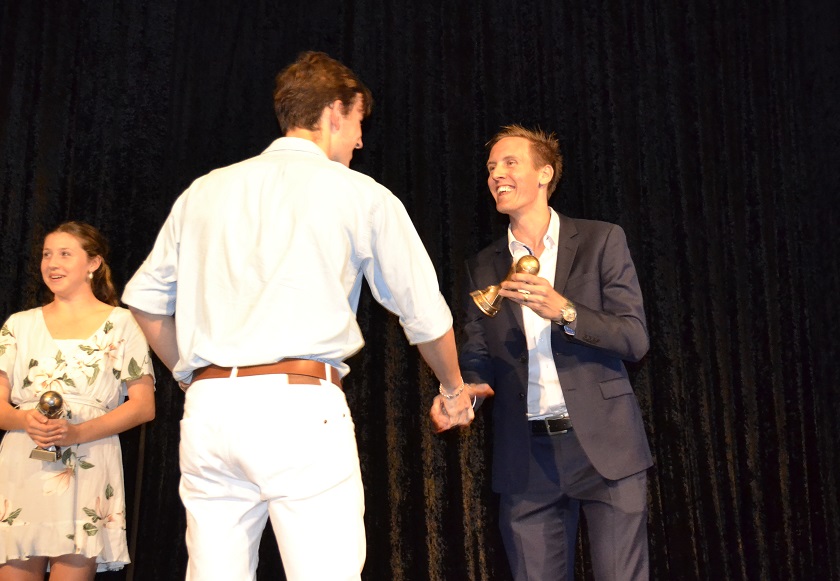 Lister receiving his 2018 U20's Coach's Player of the Year award from Michael Thwaite
One person who knows Lister's potential well is Coach Brad Robinson who has guided Harrison and a number of his team mates for several seasons at United in 2018 and previously at Gold Coast City and at the Palm Beach Sharks.
"Harrison's a talented player and great young bloke. Not only that he's a great leader and a true team and Club player.
"He'll be a central figure in the U20's side in 2019 and will be knocking at the door for selection in the Men's team."
"He's one of many very good Youth players at the Club. The array of talent in both the U18 and U20 sides is exceptional.
"They are primed for further development and will be lucky to be surrounded by some very inspirational senior players and coaches at the club as role models."
The chance to be mentored by coach Kristian Rees and Michael Thwaite proved to be a draw card for one of the Coast's top young defenders with teenage centre back Oskar Dillon recently signing for United. The 19 year old Gold Coast Premier League 'All-Star' admits that the opportunity to learn from the two A-League defenders proved too hard to ignore as he weighed up his future.
"I think with Kristian and Thwaitey at the club, they can help me a lot, both being A-League centre backs."
"And that's where I want to get to eventually, the A-League, so the decision to join United was a pretty simple one really," Dillon admitted.
The opportunity to trial to be a part of the U18 and U20 squads in 2019 is still open to all players looking to take their football to the next level, to be coached by highly accredited coaching staff and to learn from players of the ilk of Michael Thwaite and NPL stalwart, Justyn Mckay, who recently signed for the club.
Register your interest at this link. https://goldcoastunitedfc.com.au/2019-trial-registration/