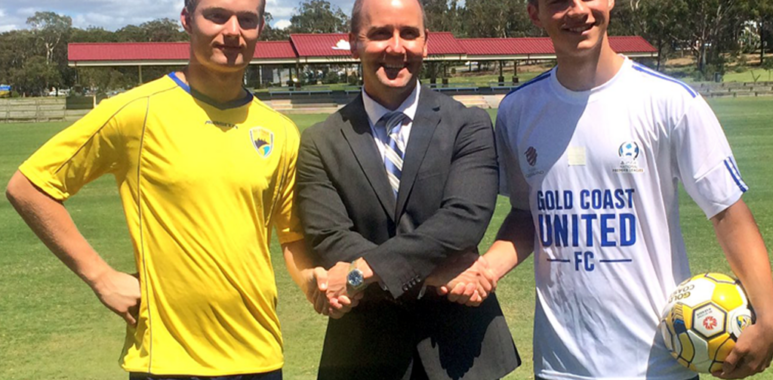 GCU sign top local juniors
Gold Coast United FC have tabled their intention to invest in the future of local football by signing two of the region's most outstanding teenagers – Joshua Langdon and Fraser Eller.
Langdon, a talented goalkeeper, and Eller, a prodigious goal-scorer, both 18, have been part of United's growing senior men's train-on squad, preparing for the club's debut in the 2018 season.
Both players are a clear sign of coach Sean Lane's mantra – "If you are good enough you are old enough" – and his desire to achieve the best out of home-grown talent.
Lane will name his 22-man squad before Christmas for the club's inaugural NPLQ season, which kicks off in early February. However he has indicated that both local products will be in strong contention for a starting position.
Club CEO Troy Bingham said the signing of Langdon and Eller was an indication of what United's core values are.
"It is really important that Gold Coast United be seen as a pathway for talented younger players to achieve their sporting dreams," he said. "Most of the kids on the Gold Coast haven't really had the opportunity to get to the next level.
"So it is important for the club to have a philosophy of promoting players through the ranks. That is what is important.
"It will never be our philosophy to just go out and buy quality players to win the competition. It starts with a culture from the management and the coaches that we want to promote youngsters who have come through our pathway.
"If we can give youngsters an opportunity and they can be successful in our system then other youngsters will also be attracted for that very reason. And this is the reason we are in business – giving youngsters opportunity."
Gold Coast United have wasted no time finalising their NPL squad for next season. @KatieBrownAus https://t.co/rZVtUJARs6 #7News pic.twitter.com/BqxbiTCzwI

— 7 News Gold Coast (@7NewsGoldCoast) November 14, 2017
Langdon, a The Southport School student, has been identified for higher honours for many years and has been part of the junior NPLQ system since his early teens. He debuted in the senior NPLQ as a 16-year-old.
It's a similar story for Eller, except he has been a nightmare for goalkeepers for years. In fact he has been the top goal scorer in every NPL age group he has played in for the past five years.
The Gold Coast product topped the Youth Men's NPL scoring charts in 2016 playing for Gold Coast City and then moved north to the Brisbane Strikers in 2017 playing under Sean Lane there, as part of the squad that took out the senior men's title.
He made two NPLQ appearances starts last season for three goals.
Langdon's preparation with United will be put on hold for the next two months as he trials for English Premier League Club Crystal Palace.
The prestigious club was impressed enough during an initial trial last year to invite the Aussie back and Langdon is hopeful of gaining a spot within Palace's program.
"For about the past four years I have believed that football can be serious career option for me," he said.
"I love the game. I have a real passion for it. It would be fantastic to follow in the footsteps of other Australians and play in one of the top leagues in the world."
However he says if the Crystal Palace trial does not end with a contract he remains excited with the prospects within Gold Coast United.
"I have worked with United's senior coach Sean Lane before and I consider him a great coach and mentor who really gives the younger players a chance," he says.
"I would still be aiming for the A-League here and United offer the pathway and profile through to that level."
Langdon began playing football in Penrith in NSW when he was five. He says he was a striker when his family moved to the Gold Coast and he joined Robina City as an eight-year-old.
"When I was in Under 11 the team didn't have a goalie and so I moved to there," he said.
"Then when I was 13 I moved to Palm Beach to play in the NPL."
Langdon quickly impressed with his skills in front of goal. He was playing NPLUnder 20s as a 15-year-old and debuted in the senior mens aged 16.
There will be no Schoolies celebration for the youngster, who graduates Year 12 on Friday. He will be on a plane on Monday.
Langdon said Year 12 studies had been an interesting juggling act.
"I take my studies seriously so it took a fair bit of discipline to combine sport with homework and assignments, but I was able to achieve an A-/B+ average," he said.
"Depending on what happens at Crystal Palace I am looking at studying architecture or business at Griffith uni."
Double handshake for a double deal! Josh Langdon & Fraser Eller sign for @gcunitedfc – story tonight @7NewsGoldCoast pic.twitter.com/pjFMtmZkr3

— Katie Brown (@katiebrownaus) November 14, 2017
Bingham said the club was hopeful Langdon would do well at the trial, but said United would always be available as part of the youngster's pathway.
"With Josh, let's say he does not make it at Crystal Palace, he will probably only be with us for a year because he is good enough and under the coaching of our goalkeeping coach, we would expect him to be then with an A-League club or pursuing some other opportunity," he said.
"If Josh is with us for just a year, we have two or three other outstanding talents in that position who will be ready to move up.
"It is a balancing act within the squad. You need two visa players with international experience. You surround them with three or four older experienced, local, high-quality players, who will be with us for several years to maintain that continuity.
"Then you fill your squad with six or seven youngsters.
"Often the younger players physically or emotionally can't cope with playing continually at a high level. So they will come in and out of form and so you rotate your youngsters to give them opportunity."
For more information contact:
Gold Coast United FC CEO Troy Bingham
Ph: 0437 237 037