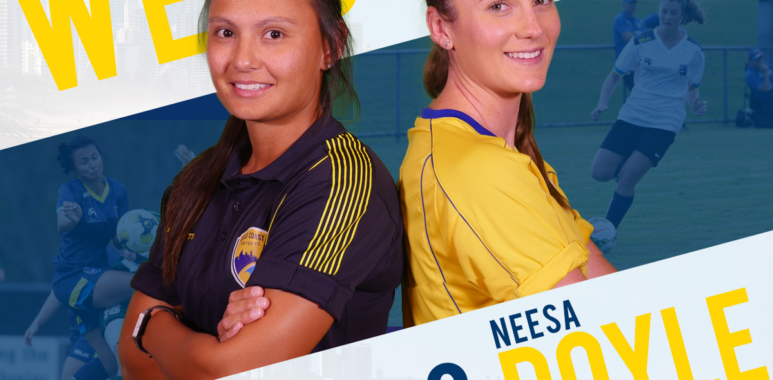 GCU Women's Squad Strengthened by Local Experience
Michael Cook, Head Coach of the Gold Coast United Women's program, turns to experienced local duo to further strengthen his 2018 Senior squad
Local players, Joy Forsyth and Neesa Doyle, have been confirmed as the latest key, experienced signings in Cook's 2018 squad, adding even more NPL depth and experience.
Forsyth brings her no-nonsense, aggressive style to the squad. Normally a right back, Forsyth likes to get forward from deep, making incisive and telling forays into the opposition's final third. When asked about why she signed for GCU one thing stood out, "the professional, supportive environment and ambitions of the Club".
Doyle has played alongside Forsyth for past 2 years in the NPLW and is excited to continue that association. A product of Maclean in Northern New South Wales, Neesa moved to the Coast in 2015, and her move to GCU is the, "exciting, next step".
"With the quality of the signings already announced it's a chance to continue to test myself against the best players in the State, in a strong squad with a top coach."
Coach Cook was seriously impressed with the quality and level of all trialists and had a tough task in narrowing down and selecting his squad. "right now I have selected 17 super players. I'm very happy with the strength of the squad and believe we will be very competitive in our first season."
He also made it clear that both Forsyth and Doyle "were high on his 'hit list. I went out of my way to make sure they were among the first to commit to the Club for 2018".
The Senior Women have started training, with the American imports, Anjel Brown & Mackenzie Akins, arriving & joining their team mates early January 2018
With three places up for grabs any Senior Women players who would like to attend upcoming training sessions, should contact Coach Cook at michaelc@goldcoastunitedfc.com.au