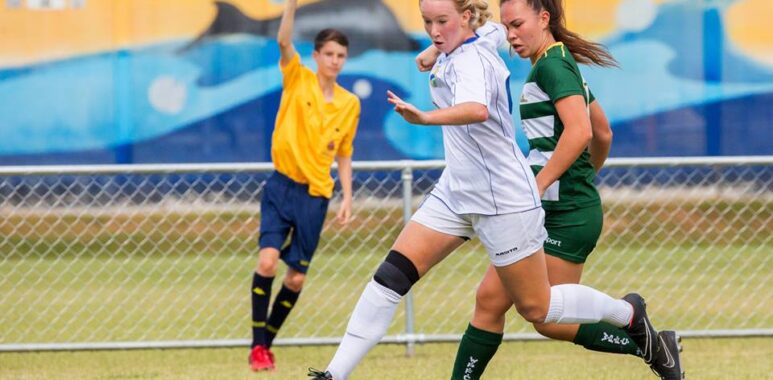 GCU Women Fall Just Short of Valiant Comeback
After weathering a 4 goal deficit in the opening 8 minutes of the match, Gold Coast United fell just short of a determined comeback in their first #NPLW game away at Mitchelton FC last night. The GCU Women were tested early but pushed a spirited Michelton squad to the final whistle, going down narrowly 4-3.
Coach Michael Cook was straight to the point with his explanation of the first 8 minutes of the match. "The 'what' happened is easy to explain, we just simply did not play! My feeling is that after such a long build up to the season, where expectations are deservedly high, too many of the players were overwhelmed with the occasion at the start of the match."
The tide turned in United's favour mid-way through the first half under the leadership of the more experienced GCU players. After the team gained composure and possession, Mackenzie Akins opened up GCU's scoring in the 22nd minute and followed up soon after, bagging a brace before the break.
"Mackenzie was a rock for her team mates. Constantly encouraging those around her, metaphorically grabbing her team mates by their collars and lifting them up and back into the contest. She contributed much more than her goals, and credit must go to her."
Down 4-2 at half time, Cook focused on calming the players down and reassuring them of their ability.
"We talked about every player taking responsibility for their second half performance, and they certainly did that."
Immediately after the break, the Californian earned a hat trick and United were back within striking distance. Akins fired a long range shot beating the keeper to the upper right corner. A tighter second half forced Mitchelton to drop off and sit deep but United were unable to convert a number of good chances to square things up. The best opportunity came in the 88th minute after a sliding breakaway from forward, Deeanna Thompson. The attack led to a collision of Thompson with the Michelton keeper, giving the forward her second yellow card of the match. Sent off the field with the red card, Deeanna will be missing the next match against East Suburbs FC this Saturday, February 10.
Cook concluded, "while disappointment was the feeling all round at the end, I was happy that we answered the question early in the season of how the players would respond when things were tough on the field. They all showed great character."
A quick turnaround for the GCU Women with attention now turning to a home debut this Saturday at 5pm, when the Club welcomes East Suburbs FC to Robina Town Reserve, the first of two big for the Club.
GCU Men face Brisbane Roar Youth at 7pm, rekindling a former Aleague derby that's sure to entertain.
National Premier Leagues Queensland – Round One
Tuesday, February 6, 2018
Teralba Park, Mitchelton
Mitchelton FC                 4 (Ramirez 1' McDonald 3' Ramirez 5' Evans 8')
Gold Coast United FC    3 (Akins 22' 39' 46')