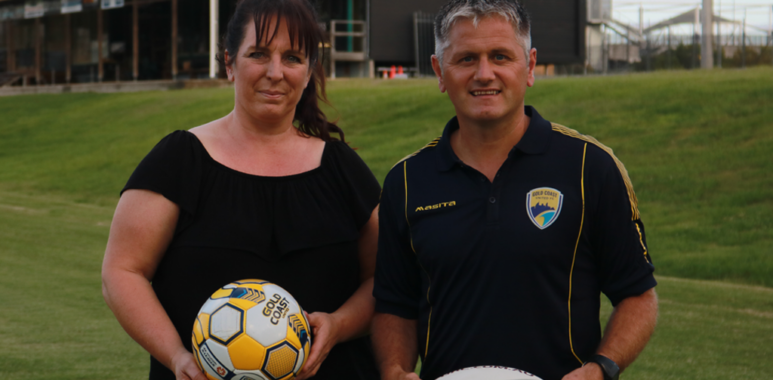 Gold Coast United announces 2018 home ground
Gold Coast United is pleased to announce that the Club will play all 2018 home matches in the PS4NPL Queensland competition at Robina Station Reserve. GCU will share the venue with Robina Raptors Junior Rugby League Football Club in a unique arrangement between the two codes on the Gold Coast. The two clubs welcome the opportunity to work together to enhance the facility ahead of their 2018 seasons.
GCU technical director Craig Midgley said he's excited by the possibilities at the new venue.
"The fields are in great nick. It's centrally located with a really nice clubhouse, there'll be a great atmosphere here. I'm really looking forward to it. Culture is a big part of any football club and it takes time to really build a culture, we want this to be a real family club, we think this venue will be a big part of that."
Robina Raptors President, Karen Breen, said she was delighted about the new partnership between the two clubs.
"I think it will be great for both Gold Coast United and Raptors, it will provide a bit more exposure for our club and it will nice to have extra families around. It's a really nice little ground, we believe it's a hidden gem on the Gold Coast."
Planned upgrades to the venue prior to season 2018 include a new building adjacent to the current Raptors Clubhouse.
The new building will complement the current Raptors clubhouse, a stone's throw from Gold Coast United's office at the Bond University Institute of Health & Sport adjacent to CBUS Stadium, a perfect venue for bigger games and for hosting International teams.
The proximity of Station Road Reserve to the club's offices also adds to Midgely's excitement.
"We can do our pre-match preparation and post-match analysis in the Bond office and with the home ground just over the road for training, it's such a good base and it's just great to have it next door."
GCU is working behind the scenes to improve the facility prior to season kick-off with plans underway for facility and field enhancements. Feedback from teams already training at Station Reserve is positive, a fabulous surface and environment.
The official start of the 2018 NPL season is set down for early February.