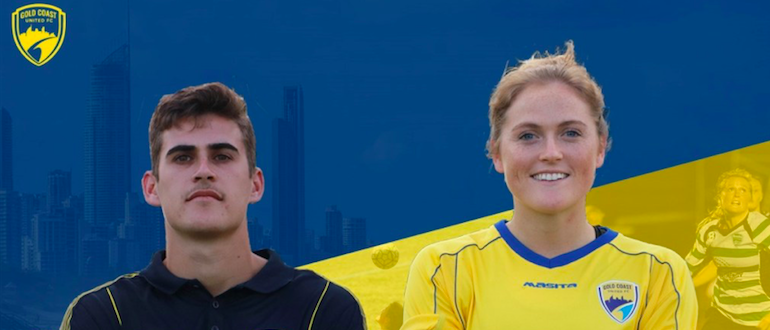 Gold Coast United sign experienced duo
Gold Coast United are delighted to announce the additions of Meg McElligott and Tyler Wagstaffe to their 2018 Women's and Men's squads respectively. McElligott and Wagstaffe both live on the Coast and return to play football in the region, off the back of strong performances in the PlayStation 4 NPL Queensland for Brisbane-based clubs.
McElligott arrives at GCU following time spent training with Brisbane Roar's W-League side. The 22-year old forward spent the 2017 season at US-based National Women's Soccer League Club, Washington Spirit. At NPL level, McElligott has played for the likes of Central Coast Mariners, Adamstown, Rosebud and Palm Beach, with her most recent club being Souths United in season 2016.
GCU Senior Women's Coach, Michael Cook, is rapt to have McElligott on board.
"I am super excited to have secured Meg for our Senior Women's squad. I've been following her career for a while now, and believe that over the next couple of years she could be breaking into the Matildas squad, that's how highly I rate her."
GCU Men's Head Coach, Sean Lane, is equally excited to have lured Wagstaffe back to the Coast.
"Tyler has a lot of NPL experience for a young player, he played with some good older pros last year and I expect him to be a leader in the group. He can play centrally and as a fullback, he is technically sound, has a big engine and will need it the way I want him to play". 
Wagstaffe moves to GCU from Brisbane Olympic where he started every match of the 2017 campaign in a squad containing former A-League championship winners Shane Stefanutto and Matt Mundy. The 20-year, who won the 2015 Gold Coast Premier League with Magic United, joins Archie Tomic and Dean Wernerson as some of the former GCPL alumni in Sean Lane's squad for the coming season. After a year traveling to-and-from Brisbane to play for Olympic, Wagstaffe said he couldn't wait to get started at GCU.
"Travel was a bit hard at times last year and it's good to finally be back playing on the Gold Coast for a good club and hopefully there are good things to come. It's a really good set up. What the club wants to do is pretty much in line with what I want to do with my football career as well, so I'm happy to be a part of it all."
Both McElligott and Wagstaffe are raring to go ahead of the 2018 season. McElligott couldn't hide her excitement about the proposition of linking up with fellow GCU signings Deeanna Thompson and Eloise Fryer, former teammates at Souths United.
"My two friends, Dee and Ellie, are playing on the team so my expectations are pretty high knowing they're on the team. I can't wait to get stuck in and see how good the squad is. Hopefully, I can help get the team to the NPL finals and have a good season myself."
Michael Cook has high hopes for McGelligot and his other major signings
"The bonus we have by signing Meg is that she and Dee Thompson have played together before, and have great-on field understanding and chemistry. Add in our wonderful import Mackenzie Akins, and we'll have a front three that will frighten opposition defenses"
Both players have started pre-season training, with the Club set to announce a host of other signings in the coming weeks ahead of the arrival of overseas-based players early January 2018.