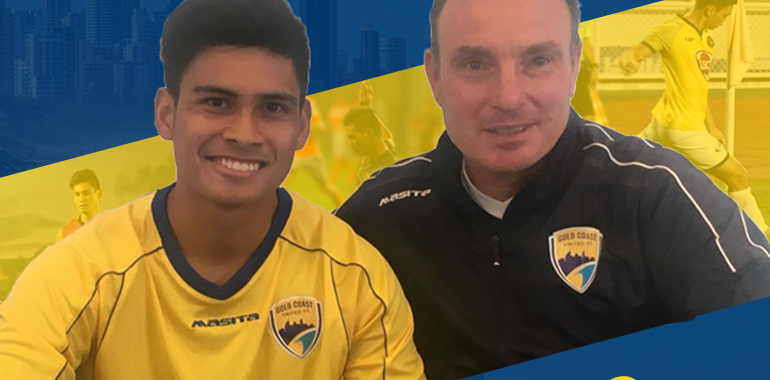 Julian Matthews is looking to impart the experience he gained as professional at Gold Coast United.
Matthews arrives at the Club after two seasons abroad playing professionally in the Philippines. In his most recent season, the left back helped Kaya to a 4th place in the Philippines Football League and a Round of 16 appearance in the continental AFC Cup competition.
Matthews hopes his experience abroad will bring benefits to the squad and his teammates.
"We made the last 16 of the AFC Cup where we played teams from Hong Kong, Singapore, the Maldives and Malaysia and we came fourth in the league, it was a really good experience," Matthews said
"I'm hoping my experience will help not only myself but others in the team as well. Maybe there are a few things I've picked up in the Philippines that they haven't done here in the NPL."
Men's signing Julian Matthews returns to the #GoldCoast after playing two years professionally in the Philippines.

Tune in to @7NewsGoldCoast from 5.30pm tonight to see more from GCU's 2018 home ground – shared with #RobinaRaptorsJuniorRugbyLeague pic.twitter.com/qhcVyWea4U

— Gold Coast United FC (@gcunitedfc) December 6, 2017
Despite being just 23, Matthews is well travelled off the pitch as well as on, having lived and played in Hong Kong, Macau, England, Australia as well as the Philippines.
The fullback began playing football in England with Guildford Saints. He also spent a year trialling at professional clubs in the UK including Stoke City and Brentford FC.
Matthews also has previous NPL experience, he was part of the Palm Beach squad that won the 2014 PS4 NPL Queensland title and qualified for the quarter finals of the FFA Cup.
After spending a few seasons abroad Matthews is excited to be back 'home' on the Gold Coast.
"The lifestyle was a big influence in my decision to come back and to be closer to the beach.
"In the Philippines I lived in the City, it was very busy with the traffic and building construction, here it's more relaxed."
United FC has set up shop in Robina ahead of the NPL season. @MatthewamHoward https://t.co/rZVtUJSsQG #7News pic.twitter.com/ZFOKPd7VyS

— 7 News Gold Coast (@7NewsGoldCoast) December 6, 2017
Senior Men's Coach, Sean Lane is pleased to see Matthews return to the Coast and will look to his experience to add some stability and smarts.
"Julian's been playing as a Pro in the Philippines league for the past couple of seasons, he is a naturally left sided player with a cultured left peg and will add balance to our team, a solid defender with a big engine, he'll fit in well.'
Matthews has big ambitions for GCU and is looking forward to working under head coach Sean Lane.
"I'm hoping to get as much game time as I possibly can and of course win as many games as we can, hopefully we can finish at least in the top three in the league.
"I think the structure of the team is top notch. Sean has been really good too. Knowing that he's won the league previously I feel that he's got a lot of knowledge to offer."
GCU Men have been training strongly. With some scheduled pre-season games in the pipeline the side has a chance to develop some combinations and understanding on the pitch ahead of the season start in February 2018.