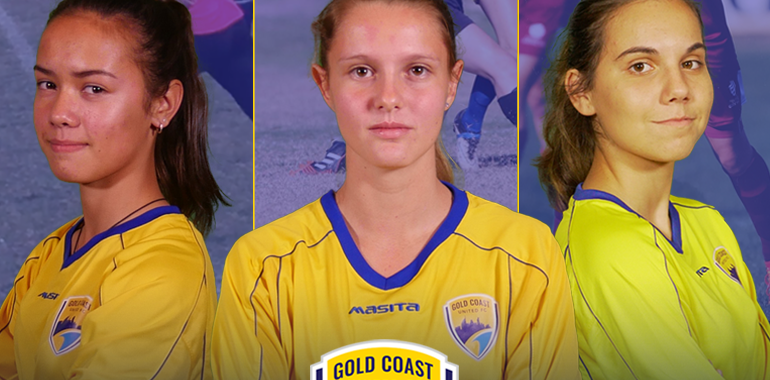 GCU women sign young trio
Gold Coast United head coach Michael Cook has added a trio of talented youngsters to his squad ahead of the 2018 PS4 NPL Queensland women's season.
Lua Suero, Kijana Walker and Lara Byfield are among a host of young locals given a chance in Cook's squad.
At just 15, Lua Suero is the youngest member of GCU Senior Women's squad. The attacking midfielder returns to play on the Coast after a season at the Brisbane based Olympic FC where she made two appearances for their first team at the back end of the 2017 campaign.
A State Representative for the past 4 years, Suero is aiming for as much game time as possible and a premiership push.
"It's a great opportunity and challenge for me to keep developing as a footballer and to be around so many talented women."
"I'm so grateful to be able to train and play with women of such a high standard in a professional environment."
17-year-old defender, Kijana Walker, has also represented Queensland, and Oceania, at youth level in futsal. Walker joins United from local club Mudgeeraba SC and is aiming to become a feature in United's defensive ranks in 2018.
"I'm very excited to sign with United, I know this is a step forward and new pathway for me to expand my skill set."
"I feel like I can bring a lot of enthusiasm and perspective to game as a younger player."
Also 17, Singapore-born Lara Byfield is relatively new to football and arrives at United after last playing at Surfers Paradise Apollo.
Cook is impressed by the speedy right winger best known for her work rate.
"Lara has great pace and skill. Along with our other younger players, she'll really benefit from being part of the women's squad, watching and learning from the experienced players."
All three players are fully aware they'll need to work hard and bide their time, with the Women's squad stacked with quality and experience. Coach Cook though knows the potential of all three youngsters and believes they have the quality and characteristics to make an impact, given a chance, this season.
"I have the utmost confidence in all of our younger players, they are the future of the club," Cook said.
"They are all very talented and have a fantastic opportunity to step up and bring something special and different to the squad."
United's pre-season is well underway. American marquees, Anjel Brown & Mackenzie Akins join the squad early January with training set to recommence on the 4th ahead of the team's first friendly matches prior to season start in February.